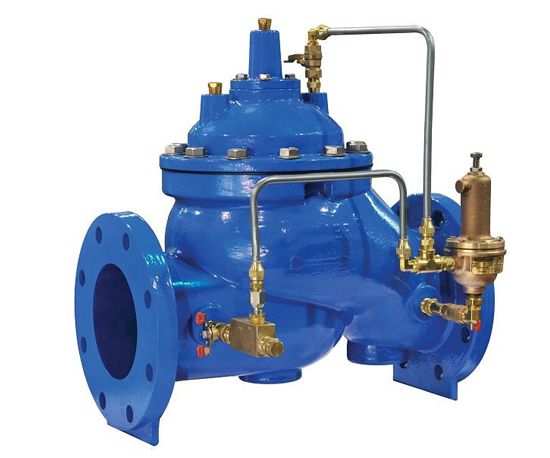 Pressure-reducing valves provide steady pressure into a part of the system which operates at a pressure lower than the normal system pressure. A reducing valve can normally be set for any desired downstream pressure within its design limits. Once the valve is set, the reduced pressure will be maintained regardless of changes in the supply pressure and system load variations. There are various designs and types of pressure-regulating valves. The spring-loaded reducer and the pilot-controlled valve are the most common.
The Pressure Reducing Valve senses the downstream pressure through a connection at the control valve outlet. Under flowing conditions, the pilot reacts to small changes in pressure to control the valve position by modulating the pressure above the diaphragm. The downstream pressure is maintained virtually steady at the pilot set-point. A pressure-reducing valve does not allow pressure downstream of the valve to exceed the set point. For instance, let's suppose that the workpiece must be clamped with two clamps. The second clamp is placed at a point where too much clamping force will damage the workpiece. A pressure-reducing valve is used to limit clamping pressure. If the valve is set on 500 psi, if the pressure at the outlet of the valve increases above 500psi, the pressure-reducing valve partially closes to create an orifice. The pressure drop across this orifice reduces the downstream pressure to 500 psi.
A pressure-reducing valve maintains lower pressures in branches of hydraulic systems. The system relief valve or other pressure setting device determined upstream main system pressure. A pressure reducing valve is normally an open, 2-way valve that allows system pressure fluid to flow through it until a set pressure is reached downstream. It then shifts to throttle flow into the branch.
Technical Specifications
Valve Body Type - Globe Type/ Angle Type
Body - Ductile Iron ASTM A 536
Bonnet - Ductile Iron ASTM A 536
Available Sizes - 50mm – 1000mm
Stem - Stainless Steel 316
Seat Ring - Stainless steel 316
Diaphragm - EPDM
Strainer - Brass
Pressure Relief Pilot -Brass/Stainless Steel
Check Valve - Brass
Features
Ideal for maintaining accurate downstream pressure
Responds quickly and effectively
Typical Applications
High-pressure supply main
Smaller PR valve for low flow, if required
Lower relatively steady pressure supply to users
Pressure Reducing/Pressure Regulating Valve (PRV) automatically reduces a higher inlet pressure to a steady lower downstream pressure, regardless of changing flow rate and/or varying inlet pressure. Cla-Val's PRVs are installed in water distribution systems throughout the world and are known for their superior performance, reliability and long service life. There are many variations on the basic pressure reducing valve