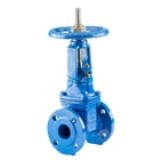 We offers Rising-stem valves which is operated by pushing or pulling the valve stem.It is made from cast or forged steel the Rising Stem Gate Valve.
 In the rising stem gate valve, the round handle rotates a threaded shaft which is attached to its center. Turning the handle will cause the stem to rise as it opens the valve and descend as it closes the valve. With a rising stem gate valve it is easy to tell if the valve is open or closed by looking at the amount of stem that is exposed. If the handle is flush with the pipe (no exposed stem), the valve is closed. If a lot of stem is exposed, the valve is open.
Features
Full rubber wedge
Full rubber wedge
It has outside Screw and yoke Gate valve
Designed for opening and closing the flow of drinking water
70-degree temperature with a pressure up to 16  bar.
Specification
Outside Screw & Yoke Gate valve
DN: 40-600
PN: 10/16
Face to face: F4 and F5
Body: GGG-50
Bonnet: GGG-50
Wedge: EPDM/NBRStem: AISI-420
Visual position indicator