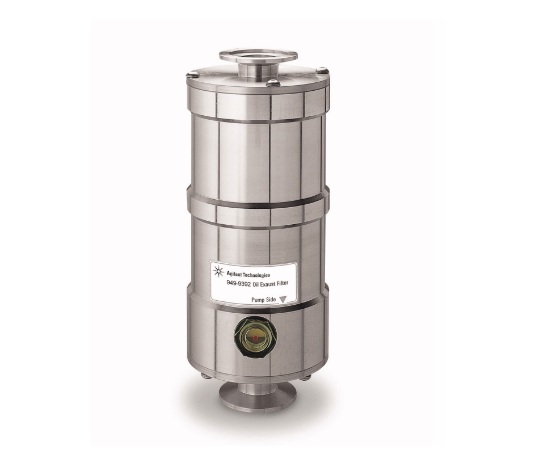 Oil mist eliminators and cartridges, inlet filters, traps, maintenance and spare part kits, cables, and cords for rotary vane pumps
Vacuum Fluids for Rotary Vane Pumps
As different vacuum pumps are applied for different uses, vacuum pump oils are tailored to different pump operations. Appropriate vapor pressure, viscosity, resistance to heat or chemical attack, and other factors distinguish which pump fluids provide for optimal performance.
Agilent vacuum pump fluids have been specifically selected for each Agilent pump model, assuring that the pumps can fully achieve their operating specifications.
Cables & Cords for Rotary Vane Pumps
The Agilent rotary vane pumps are available worldwide, with a selection of power cords to meet the requirements for each pump's voltage range, and every global region's connection standards. Consult the selection chart on each pump model's data sheet or contact your local Agilent representative for assistance with special power requirements.
Oil Filters, Oil Returns & Drains for Rotary Vane Pumps
When operating under high gas loads, rotary vane pumps exhaust small drops of oil with the exhaust gases. This 'oil carryover' will eventually deplete the oil level in the pump reservoir until the oil level will fall below the amount required to operate the pump without damage. The Agilent exhaust filter uses a coalescing filter element to recapture oil from the exhausted gases.
The oil return kit is added to the exhaust filter to provide for oil collected in the exhaust filter to be returned automatically to the pump reservoir.
The optional oil drain extension is available to extend the oil drain plug 40 mm out from its position in the pump case, allowing easier access for oil to be drained into a waste receptacle.
Oil Mist Eliminators & Cartridges for Rotary Vane Pumps
The Agilent oil mist eliminator is designed to remove the oil mist that is emitted from a rotary vane pump exhaust, when the pump is operating with little or no gas load. This prevents the area adjacent to the pump exhaust from becoming slick with oil residue.
Similar products allow only for the exhausted gases to be vented to the room in which the pump is operating. The Agilent oil mist eliminator includes a NW25 connection to allow gases to be routed elsewhere for exhaust.
Inlet Filters & Traps for Rotary Vane Pumps
Agilent offers both inlet traps and inlet filters for use with the Agilent line of rotary vane pumps. When operating under molecular flow conditions, an Inlet trap with a stainless-steel wool element protects the vacuum space from oil contamination due to oil back-streaming from the pump inlet.
For applications where the gas stream may carry particulate or other foreign material into the pump, an inlet filter provides protection against potentially severe damage to the pumping mechanism by removing any particulate or debris from the gas stream before it can enter the pump.
Maintenance & Spare Parts Kits for Rotary Vane Pumps
Use genuine Agilent replacement parts to maintain your Agilent rotary vane pump. Unlike aftermarket products, genuine Agilent replacement parts are identical to the parts used in new-pump production.
Assure the best fit to the close tolerances required to return your pump to its original performance and reliability by using only genuine Agilent replacement parts
Fitting Kits for Rotary Vane Pumps
For the mounting of booster pumps or inlet filtration systems to the puimp inlet, the Agilent MS-series of rotary vane pumps offers inlet fitting kits to provide a packaged solution for mounting requirements