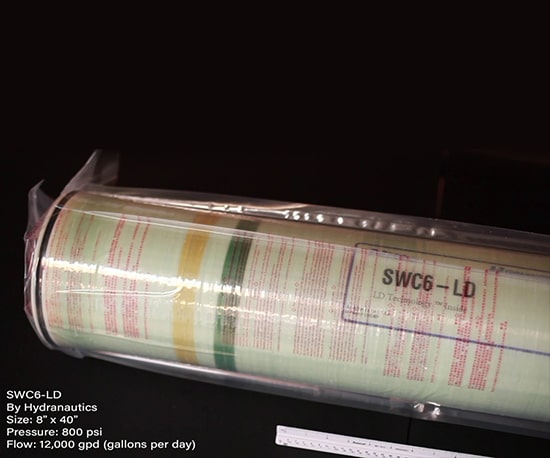 Dutco Tennant brings a range of Sea Water Composite Reverse Osmosis membranes in order to meet the demands of the Gulf Countries which mainly rely on desalination for water requirements. Depending on the desired product, there is a range of Sea Water Membranes that Dutco Tennant offers. Each of these Sea Water Range of RO Membranes is applicable to certain feed water and system and most are produced for our clients to receive the highest productivity and salt rejection.
SWC6 range of RO Membranes from Hydranautics has the lowest energy consumption. SWC6 RO Membrane is commonly used for seawater composite RO membrane in the treatment of feed water with lower temperatures and requires high feed pressure. SWC6 membranes are available in two different types of variants, LD and MAX.
For minimizing colloidal fouling while being used with conventional pre-treatment equipment, the low differential LD Technology models are used. They offer consistently low feed pressures and the highest duration between two successive cleanings.
The MAX models have a 440 ft2 (40.9 m2) active membrane surface area. They provide excellent performance with high TDS and boron removal from warm waters.
The Reverse Osmosis water filtration technology Membrane by Hydranautics (Nitto) is designed for Seawater / High Salinity Water applications that require a psi of 800. This Membrane uses Reverse Osmosis water filtration technology to take out 99.80% of contaminants found in the feedwater, which makes it best suited for seawater desalination and high TDS industrial wastewater treatment applications, including conventional and hybrid designs.
Hydranautics membrane supplied by Dutco comes from either Japan/USA. The Reverse Osmosis water filtration technology Membrane SWC6 RO Membrane is Spiral Wound Composite Polyamide. The advantages in using the Hydranautics (Nitto) SWC6RO Membrane are each membrane offers the highest productivity and salt rejection rates in the industry combined with the optimized flow, low fouling, and low energy consumption and does not need to be cleaned frequently thus reducing treatment cost while offering extreme durability and consistent performance.
Dutco has years of experience in dealing with seawater reverse osmosis filtration membranes which are important to make sure that the water that you are getting is up to the standard of the local municipality and as well as satisfactory for the application whether it's for seawater, brackish water or greywater.
Our group of technical people are knowledgeable and trained to design the best suitable solution or method in which the system will best cater to your requirement as well as to make sure that systems will be installed, commissioned, and ran at optimum conditions.
For price details and other information feel free to contact us. We are always happy to help you out with the best service.
Advantages
99.8% nominal rejection
Highest combination flow, rejection, and boron rejection
Up to 440ft2 active membrane area
Applications
Seawater desalting
Broad offering of membrane formulations designed to accommodate varying levels of seawater salinities worldwide