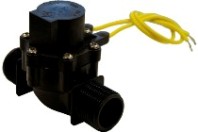 Dutco Tennant LLC has been a leading supplier for a wide range of industrial and engineering solutions for all types of industries from construction to networking to electrical for around four decades. Dutco Tennant LLC supplies products to a high-status list of corporate and government sector for various projects, and has made the contribution behind the creation of world-class private and public infrastructure such as water and wastewater projects, airports, exhibition centers, shopping malls, networking infrastructure, hospitals, hotels, universities and offices around the Middle East and GCC region.
We have various business units to offer and among them, irrigation & Landscaping is one of our most specialized and big departments in which we provide a wide range of products and solutions. We have various high quality and smartly designed valves among which Solenoid Valves is one of our most demanded products.
Dutco Tennant LLC offers a large range of 2-way plastic solenoid valves. These valves have 2 ports, one for inlet and another for the outlet and are normally closed. The valve stays closed when the coil is de-energized and opens when it gets energized. These valves can be used to control On/Off air, inert gas, liquid, and water. The manual override switch allows the opening of the valve manually when there is no electricity supply. These valves can be mounted in any position. The valve body is made up of nylon 6.6 with 30% fiberglass. The presence of built-in steel mesh filter makes it permanently clean. The working temperature range is pretty good and lies between 2 and 80 degrees. These valves have been resistance testes for 25,000 cycles at 15 BAR and 80 degrees to provide you with the utmost efficiency and zero disruptions.
Our offered range of products is manufactured by top-class engineers using premium quality material procured from the authorized and reputed vendors of the market. These products are precisely engineered by employing cutting-edge machinery and advanced technology in accordance with international quality standards & norms. These products are widely demanded in oil, gas, petrochemical and sugar industries and are highly appreciated among the clients for their resistance to abrasion & corrosion, smooth performance, strength, fine finishing, durability, and dimensional accuracy. It should be noted that the internal parts of the solenoid valve are made of different materials. A solenoid valve is often selected due to good sealing properties, fast response time, durability, reliability, and a wide range of operation types and materials to find the right one for your application.
Features
2-way microvalves.
3/4" male thread BSP.
Normally closed.
Valve body made of nylon 6.6 with 30% fibreglass.
Permanently clean because of the built-in steel mesh filter.
Assembled with screws and stainless steel spring.
Nitrile diaphragm.
24 VAC solenoid.
Working temperature between 2 and 80 degrees.
Recommended working pressure of 1 to 10 bar.
Opening and closing response time of 0.5 seconds.
Resistance test carried out for 25,000 cycles at 15 BAR and 80 degrees.
Specifications
Height: 5 cm.
Width: 4 cm.
Weight: 110 gr.
Units per box: 10
Weight per box: 1,1 kg.