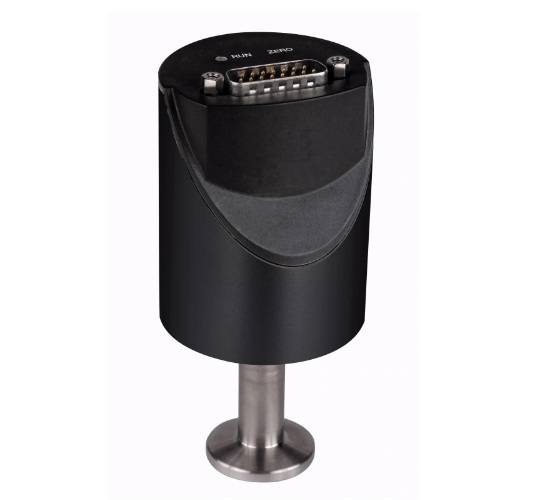 Agilent's range of expert vacuum measurement equipment contains everything you need for precise vacuum analysis applications from ATM to UHV. Choose from our full range of active gauges, including CDG, FRG, PCG, and PVG options.
CDG-500 Capacitance Diaphragm Gauge
The Agilent CDG-500 series of temperature compensated capacitance diaphragm gauges provides the highest level of accuracy in the high-pressure region. Full-scale measurement ranges are available from 1000 to 1 Torr (1333 to 1.3 mbar).
The CDG-500 series uses a corrosion resistant ultra pure alumina ceramic diaphragm providing exceptional signal stability, fast recovery from atmosphere, short warmup times, and unparalleled robustness.
Used in a variety of applications such as thin film and vacuum processes, industrial vacuum processes, data storage, and semiconductor production processes.
FRG-700/702 Full Range Pirani Inverted Magnetron Gauge
The Agilent FRG-700 gauge is a full range gauge that provides two measuring technologies in a single, compact and economic package to measure process and base pressure from 3.8 x 10-9 Torr to atmosphere (5 x 10-9 to 1013 mbar). The single, compact unit with one logarithmic analog output signal, significantly reduces the complexity of installation, setup, and integration. The benefits of this combination gauge are reduced cost and a marked reduction in valuable space requirements.
The FRG-702 is the all-metal version of the FRG-700, incorporating a metal-sealed feedthrough. It can be operated at higher temperatures (max. 150°C at flange) than the FRG-700 (max. 55°C at flange).
FRG-720/730 Full Range Pirani Bayard-Alpert Gauge
The FRG-720 and FRG-730 combine the Agilent Pirani and Bayard-Alpert sensor into a single compact design that provides measuring capability from 3.8 x 10-10 Torr to atmosphere (5 x 10-10 mbar to atmosphere ). Combining these two technologies into a single unit reduces complexity and integration challenges while protecting the Bayard-Alpert sensor from premature burnout.
PCG-750/PCG-752 Series Pirani Capacitance Diaphragm Gauges
The Agilent PCG-750 series active gauges, PCG-750 and PCG-752, combine Pirani and ceramic capacitance diaphragm sensors into a single design. These gauges provide gas-type independence and increased accuracy in the range from 3.8 x 10-5 to 1125 Torr (5 x 10-5 to 1500 mbar).
PVG-500/PVG-500S/PVG-502S Series Pirani Gauges
The Agilent PVG-500/500S(tungsten)/502S(nickel) series of Pirani gauges provide the ultimate combination of state-of-art technology and ruggedness within a compact design. The PVG-500 series utilizes the most advanced digital Pirani technology combined with a stainless steel sensor cell design to meet the various needs of the market.
There is an easy pushbutton ATM and High Vacuum (HV) adjustment. The nickel filament option is an effective solution for corrosive applications.