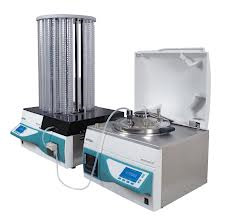 Dutco Tennant LLC likes to be known as not just a supplier for various industrial and engineering needs, but as a complete solution provider. For four decades we have been earning recognition and awards as a leading supplier for all industrial verticals ranging from construction, electronics to electrical. We have been maintaining a good presence in the market of the Middle East and the GCC region for the last four decades and have been working closely with a list of high-status clients comprising of public and private companies. We have contributed our part behind the infrastructural development of various nations and our list of completed and ongoing projects include schools, colleges, universities, hospitals, offices, industrial plants, museums, etc.
Our services and product offerings are divided into various business units, one of our most renowned business units is Analytical Solutions. In this department, you will able to find various solutions and products for research for educational purposes. Our supply includes Chemical Lab Solutions, Microbiology Lab Solutions, Material Science testing Solutions, Research Equipment, Network Survey equipment, and other products. Dutco Tennant LLC provides microbiology lab solutions which accurately tests raw materials, ingredients, and finished product for various pathogens and various indicator organisms like yeast and mold. For those who need the highest guarantee of food safety, it is highly recommended to buy microbiological solutions from us. In the longer term, our solutions prove more cost-effective and they provide more in house control than outsourcing. Our wide range of product line includes Autoclaving Equipment, Colony Counting Equipments, Automated Microbial Identification Solutions, Temperature Controlled Equipments, Microbiology Media Solutions, Pipetting Solutions, Microplate Dispensing Solutions, Glassware Washing Solutions, Laminar & Biosafety Cabinets. Along with that we supply usable, prepared, cultured microbiology media solutions available in various choices like plates, tubes, bottles, and others for the identification of microorganisms.
The preparation of culture media is a very important part of food laboratory's microbial detection enumeration process. This media filter provides best in class technology and is suitable for various applications for liquid dispensing media filing. Our product will enhance the productivity of the pure laboratory. It can fill up thousands of tubes, dishes per hour with complete accuracy and real cost-effective solution. It is used for serial dispensing of culture media, agar or any other liquid for efficient sample preparation.
When filling agar medium into Petri dishes, a sterile environment is of utmost importance. However, the risk of contaminating the agar medium if poured manually into Petri dishes should not be underestimated. Even if using a peristaltic pump, sterility might be jeopardized as dishes and tubes are manipulated by hand. Also, filling a large number of Petri dishes manually is a painstaking process.
The Automated Media Filling Unit helps you to avoid these drawbacks. Equipped with a UV lamp, the filling chamber where Petri dishes are automatically filled with agar medium is kept free from contamination.
Features
Easy Handling
Reliable Walk-away Automation
Media Cost Reduction
Eliminating Sources Of Contamination
Applications
Filling Of Ø 35, 60 And 90 Mm Petri Dishes
Filling Of Biplates
Blood Agar Preparation
Independent Pump Function
Test Tube Filling
Products Covered
Peristaltic Pump for Dispensing