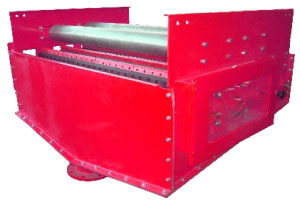 For around four decades, Dutco Tennant LLC has been a leading supplier of various industrial and engineering products and solutions in the Middle East and GCC region. Through our old fashioned know-how or cutting edge technology, we have been helping various clients to get the best industrial supplies which match their needs and demands. We provide applicable and complete solutions which reflect its deep understanding of the products, its markets and the ever-changing demands from the customer. We have taken up the challenge of this sector which is both far-reaching and complex and requires extensive product training and application knowledge. Our complete range of products includes - lubricants, bearings, conveyor products, and heat exchangers, industrial dampers, sealing products, air slides, heat, fire, and oil resisting conveyor belts.
Along with various conveyor solutions we also provide solutions for the maintenance of conveyors. A conveyor needs to keep running with any obstructions as sudden breakdown due to poor maintenance can cause a loss in productivity for a business.
Installed as a secondary cleaner along the conveyor's return run, the Belt Washing system provides the ultimate in belt cleaning technology. Each Belt Washing System can be custom engineered to match your cleaning requirements. This spray wash system is supplied in a watertight metal enclosure fitted with water service and a drain. Each Belt Washing System consists of a steel enclosure equipped with rollers, spray bars, and secondary belt cleaners. DTs belt cleaners are a standard part for the equipment. The spray wash system shall consist of pressure rollers to hold the belt in position. The same will not be a part of the standard supply.
The box is being fitted with a water spray bar with nozzles positioned to wet the entire belt width and flush out the box through the installed drain. The water softens the carryback and provides lubricity to allow the maintenance of effective cleaning pressure. The wash system shall be fitted with multiple secondary cleaners to provide complete removal of fines and water from the belt surface. They shall allow easy inspection and service through a watertight access door.
Features and Benefits :
Fully Enclosed - The system provides excellent cleaning while containing the wash waste fluid.
Removable Inspection and Service Door – Present on each side with a wash down hose included.
Dual Sets of Secondary Cleaners
Two Spray Bars, Nozzles and Valves – It softens the carry-back and provides gentle cleaning.
Equal Pressure - Snub Idler provides equal pressure on both cleaners.
6" NPT Drain Pipe
Features
Multiple Belt Cleaners with TC blades
Pressure rollers to hold the belt in position against the cleaners
Necessary mounting hardware
Necessary mounting hardware
Center Discharge Enclosure