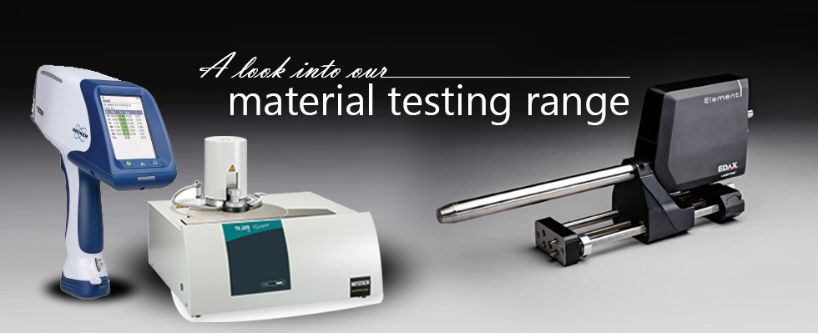 A LOOK INTO OUR MATERIAL TESTING RANGE
For a wide range of reasons, materials testing is done as it can offer various information about the materials which are tested, samples of the product, or prototypes. The collected data during the test and the final test results can be extremely useful for the designers, engineers, production managers, and others.
Here are some of the reasons for which it is important to have material testing –
Selecting suitable materials and treatments for any application
To meet the requirements of the regulatory agencies
Verifying the process of production
Evaluating the design of the product or improving the specifications
In critical applications, a wide number of products are used in which any failure can result in extensive injury or damage. Some examples can be manufactured parts and fasteners which are having a vital role in maintaining the safety of bridges, aircraft, nuclear reactors, vehicles, medical implants, and equipment for the military. Adding to that, various jurisdictions have been adopting legislation that restricts the usage of hazardous materials. In such cases, the regulatory bodies and governments set various compliance requirements which are required to be met by the manufacturers. Companies are required to stand by these standards that mainly specify the test procedures for proving compliance.
The department of Material Testing is a very diverse range of applications that spans several industries and even much wider varieties of materials starting with composites, metal, and ceramics to textiles, polymers, geomaterials, concrete, and various others are covered. To verify the characteristics of the material, a complete science testing solution is important that helps to detect the defects, diagnosing the failures, performing basic research on the theoretical strengths of the material.
The portfolio of the test solutions delivered by Dutco Tennant LLC are extremely innovative, reliable and are required for satisfying all the material evaluation needs ranging from single-axis compression testing/tension for complex mechanics fracture and testing of multiaxial fatigue. The material science testing solution equipment which we supply can offer you the complete testing capability for metals and all other materials. We are offering a wide range of equipment for performing physical, mechanical, chemical, and non-destructive testing. We offer these solutions combined with unmatched expertise in the department of material science, quality control, and manufacturing for ensuring that your solutions can deliver repeatable, precise results which you expect to get.
Being a leading supplier of material science testing, we can offer you the newest methods of material testing, extremely experienced technicians, modern laboratories, and a wide reach. Being a renowned supplier in the Middle East and GCC, we can offer you a comprehensive range of material science testing solution equipment which is primarily used for quality control purposes across industries. All of our supplied thermo extrusion and compounding equipment are made to satisfy the latest requirements and standards making sure that the required performance is achieved with confidence. We specialize in supplying scanning microscope equipment to many industries including the construction industry where testing of materials like Asphalt, Concrete, and Soils is essential. Our range of equipment reflects the recent developments made in testing techniques and values.
Get a Quote