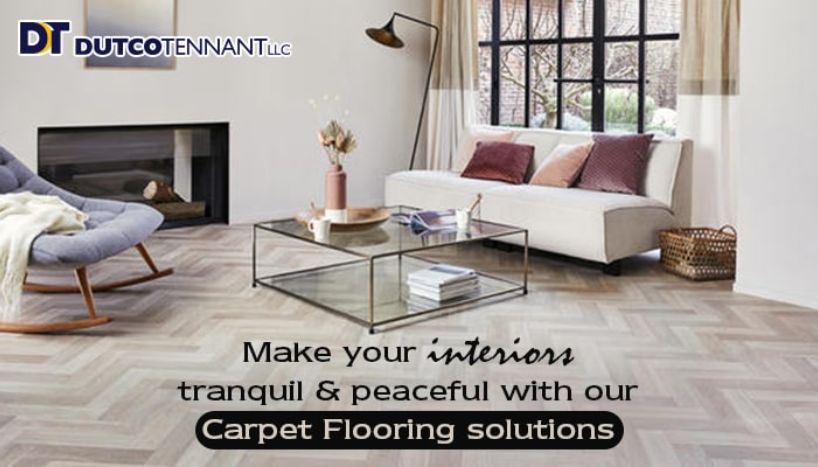 ADVANTAGES OF OUR SUPPLIED FLOORING PRODUCTS
A lot of factors are underlying when considering the design of a space but among them, flooring is often ignored. But flooring is actually one of the most important elements for any building and it influences a lot of factors which will ultimately leave an impact on whether space was a success or not. Simply because of the wrong or extremely impractical flooring finish, several beautiful spaces despite existing, don't function the way they should. It is extremely important to understand that though our first interaction with space is a visual one, the first physical contact for any person will always have to be with the flooring. And as a leading flooring products supplier in the Middle East, Dutco Tennant LLC understands this necessity very much.
So what are the purposes served by flooring? Well, firstly it affects the design of your home. Whenever someone enters a room, their impression of a space can subconsciously be affected by floors. As the floor lies underfoot and takes over a wide real estate in any space, it significantly affects the aesthetic of your home. You can make your space instantly warmer, cooler, larger, more intimate, smaller, more luxe, and cozier with the help of flooring. Flooring also improves or hampers the functionality of your home. For instance imagine you are rolling out a bed on a cool day to sink your toes into a silky or soft plush carpet, or having an expensive and very delicate floor. This will automatically impact the way you are experiencing your home. Flooring can also affect acoustics in an office or family room, allowing you to enjoy family time or work time. It can make it very much easy to walk around barefoot or in slippers. It can help you to save up on your heating bills by making your feet warmer and more comfortable. The way you behave in your home is directly impacted by your floors. The architectural finishing products impact the health of your home. If you are suffering from allergies or conditions which makes you aware of indoor air quality, you will need to think about the choices of your floor. Some flooring is better at resting the buildup of common allergens like particulate matter, dander, and dust. Apart from that, choosing floors fitting your lifestyle is important. Because of which suppliers of flooring products in Dubai will always ask you about your willingness to spend capital and time on cleaning. Some flooring is designed specifically to be very easy to clean while some types are designed to last for a long time so you will not have to redo your floors as often. Floors also affect the value of your home. Beautiful floors make your home more inviting and can also increase the value. They can even also help to make your space more attractive to buyers.
If you are searching for a prolific flooring and architectural products supplier in the Middle East and UAE region, then Dutco Tennant LLC should be the perfect choice for you. We are highly renowned for supplying the most high-class range of products and have earned a name for yourselves in the field of supplying innovative flooring solutions. For all types of your projects, Dutco Tennant is always there to provide high class, advanced solutions to meet the demands of its customers. We can also offer custom made of a variety of materials that are extremely durable, easy to clean, and consequently suitable to be used in heavily used residential areas and depends on the wear and tear rating is also suitable for commercial use. Our solutions are designed to offer high benefits and are based on modern technology. Our supplied range of flooring solutions has been exclusively designed from handpicked materials that are healthy to use everywhere whether it is a residential area, office area, or any other place. Throughout the entire process of construction, strict quality controls measures are employed for ensuring value creation at every step. This value creation chain ensures that our supplies are harmless for both human life and the environment, and are suitable for use in every setting. For instance, our carpet flooring solutions create surfaces that feel extremely warm to the feet. They are also suitable for ensuring pleasant room acoustics, and are extremely easy to wash & clean, and consequently perfectly appropriate for households with children and pets. Many of our supplied architectural finishing products and flooring solutions have been designed by utilizing special surface coatings that resist the effects of dirt and infection-causing bacteria. The flooring solutions support material offers increased swell protection, which makes them suitable to be used anywhere in the home area. Because of the composition of the products they are suitable for use anywhere in the room and therefore they can be perfectly used in damp areas as well. Our entire product line is perfectly suited for installing underfloor heating systems. All of these flooring products are highly desirable and in demand. We have been offering our impressive line of flooring products for Healthcare, Education, Retail, Hospitality, Factories, and others. We have raised the access floor for use in commercial office buildings, substations, data centers, computer labs, electrical rooms, security rooms, banks, and other offices.
So if you are searching for an advanced range of flooring products in the Middle East and UAE region then definitely check out our extensive product range.
Contact us to get the wide range of flooring products  and add your remarks: +9714-2152799
Get a Quote