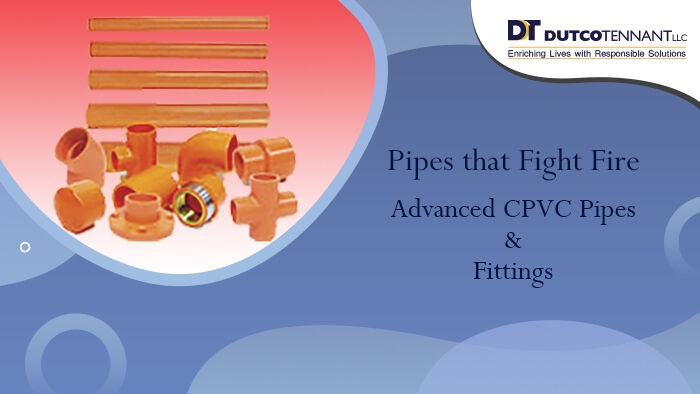 ALL ABOUT CPVC FIRE SPRINKLER PIPES
Any building's first line of defense against a fire lies with automatic fire sprinklers, controlling the flames 96 percent of the time that they operate. It is important to choose a piping material which is able to meet the specific needs of your property and reliably deliver water during a blaze is important for saving lives and also avoiding damage to the property. Copper also lies as a great option as it has a great corrosion resistance but CPVC has even greater corrosion resistance and costs less than any metallic option.
The thermoplastic material CPVC is a material that can be easily molded into several shapes for creating fittings, pipes, and valves. At first, the owners of the properties were skeptical about the capability of a plastic pipe for resisting flame, CPVC fire sprinkler pipes have gained widespread acceptance since the very first systems which were installed during the early 1980s. They are highly immune to corrosion which has left a huge impact on the industry of fire protection and has created fire sprinklers which can remain in service for almost 50 years. CPVC pipes comprise a slick, comparatively impermeable surface which keeps the bacterial contamination away and also prevents any deposits from getting accumulated and clogging the pipes. CPVC pipes also naturally resist degradation from chemicals that are classified as alkali, acid, or inorganic material. All of these characteristics enable water to flow via the CPVC pipes with very little friction which earns them a C- a factor of 150. This number is equal to copper pipes' smoothness.
Extensive testing and approval from UL have helped in dispelling the initial doubts that CPVC fire sprinkler pipes would melt in case of a fire. But in the real sense, the CPVC requires to be forced to burn by putting the pipe in direct contact with the fire and it also stops smoldering as soon as the flame is removed. Instead of this a charring layer is formed on the outside of the pipe which creates a thermal barrier that protects the inside and enables water for flowing unheeded onto a fire. CPVC also has a much lower price compared to the metal pipe and is easier to handle because of the lightweight. It has a very fast installation and the joints are chemically welded together by hand without flame or heavy equipment. This is the bigger frame that leads to saving on labor costs.
CPVC Fire Pipes - Types, Applications, and Limitations
These pipes are listed only for light-hazard occupancies as it does start to soften at temperatures which are a bit higher than 200°F. The upper service temperature limit of currently listed CPVC fire sprinkler pipes is 150°F (65.5°C) at 175 psi (12.1 bar). These pipes can be safely used in single and multi-family housing and also on commercial occupancies where fires get developed slower with lower heat just like offices, schools, fire stations, hospitals, and hotels without large stockrooms, prisons, museums, and nursing homes. In rooms that are rated as "ordinary hazard" which are smaller than 400 square feet and within a light-hazard setting like kitchens in an institutional facility. These pipes are not recommended for use in exposed outdoor settings, because prolonged exposure to sunlight can affect its strength. It is also not recommended for commercial dry systems as it can become brittle under cold temperatures by creating a serious safety hazard if the energy of the pressurized gas is released suddenly because of a rupture in the pipe. It is also essential to know that all of the CPVC pipes and components have been listed for the same exact use in fire sprinkler systems. It is very important for contractors to confirm via the manufacturer that a product which they are thinking to install is not only listed for fire sprinklers but also for the specific application they are intending to.
Dutco Tennant LLC and Paratech, together bring a wide range of Firefighting Pipes & Fittings. Check out our range.
Get a Quote