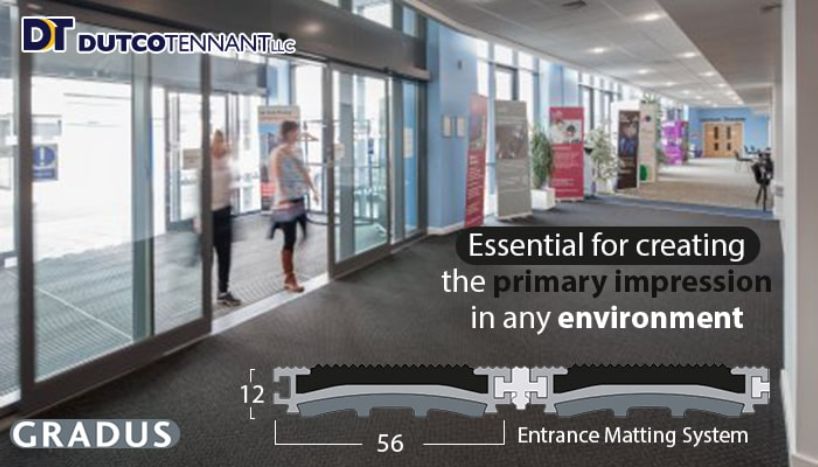 ALL ABOUT ENTRANCE MATTING SYSTEM
Entrance matting is essential for creating the primary impression in any environment. It is the main thing which you notice when you walk inside a building, the first point of contact before and after entering a space and is a very welcoming area on any rainy day. All of us walk our way past several entrance mats throughout the years, often aware of how fast they tend to wear out. But with the right entrance mat system, the correct length of matting, and with the perfect matting materials, they shall be able to last for a much longer period of time.
Criteria for a good entrance mat system
Knowledge about how a good entrance mat should work, always allows you to make informed decisions while choosing the best matting for yourself. These are some of the criteria which should be fulfilled by a good entrance mat -
Water and dust absorbing capabilities
Preventing trips and slips with its anti-slip backing
Quick-drying properties
Trolley and chair traffic handling capability
Great looks which fit your interior design perfectly
Discourage the spread of fire with fire resistance properties
Be integrated into the cleaning method and frequency of the environment
Entrance matting systems for a workplace or building has three zones.
For the exterior zone, it requires outdoor matting. It shall be capable of handling snow, ice, sunlight, and rain. It is the main barrier between building interiors and footwear and must scrape off any debris or dirt. Primary zone matting needs to be durable and absorbent enough for being able to remove debris and most moisture from footwear. The secondary interior zone demands formatting which can remove any residual dust or water. If you are ready to spend a little, then having matting in all three zones is the most efficient way for combating dirt and water. But if you only want to opt for one then the primary interior matting is the best option to opt for. Depending on the amount of space available and daily traffic, allow for more matting areas for ensuring that the surface is not saturated very quickly. You need to ensure that the matting installation does not add tripping hazards. Make it clear that there are beveled edges around the mat or install the mat in a recessed mat well. This puts the mat at the same level as the flooring surface. Consider matting heights when you are planning the recessed mat well.
Materials which are used in entrance matting systems
For commercial entrance mats, it is important to select the correct material for maximizing the efficiency of your entrance matting. Many materials are more absorbent, some scrape better while some are UV resistant. Here is a list of the most popular ones.
Nylon
This synthetic fiber is considered to be the best material for entrance matting. Nylon is highly resilient and hard-wearing. Environments having high footfall can heavily benefit from Nylon matting as it can dry out quickly and is resistant to strains. With it, you can create a texture that scrapes and brushes.
Polypropylene
These Thermoplastic Polymer fibers are highly effective in scraping dry dust due to their rough abrasive texture. It costs lesser than Nylon matting and is very much popular for office, retail, and leisure environments.
Microfibre
These are traditionally made up of Polypropylene and Nylon yarn. They are highly absorbent and this type of matting effectively traps moisture and dirt efficiently. It is more efficient than cotton material.
Coir
Coir is natural material manufactured from husks of coconut shells. It is extremely efficient for its scraping properties but is not wheelchair friendly.
Rubber
The most ideal choice for heavy-duty outdoor applications and is available in several designs. Holed rubber mats are the best scraper and it helps in decreasing the risk of slips. Nitrile when mixed with Rubber improves its performance and is able to withstand extreme temperatures.
Dutco Tennant LLC is a prominent supplier of Entrance Mats and Commercial Entrance Mats in the Middle East and GCC region. We have been into this business for the last four decades and have supplied Entrance Matting System for a number of projects. We supply various entrance matting system which is highly effective for both applications in indoor & outdoor areas. Engage with us and share your thoughts with us.
Get a Quote