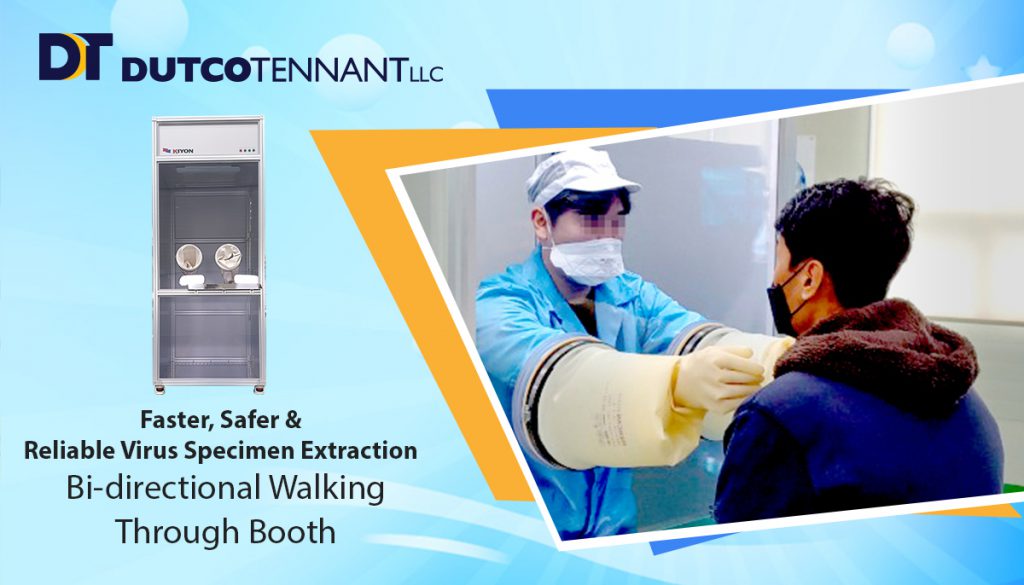 BI-DIRECTIONAL WALKING THROUGH BOOTH MAKES COLLECTION OF VIRUS TEST SPECIMENS FASTER AND EASIER
The world is currently going through a dark phase that has put the entire world into a standstill. With the breakout of COVID 19 several lives all over the world is facing a massive threat to life. All over the world scientists and experts are working day and night to find out a suitable antidote for this and hopefully, we will enjoy a suitable solution soon. Now, it is an undeniable fact that to stop the gradual spread of this virus, the world needs to perform more and more rapid tests to detect potentially affected personnel and send them to quarantine. Just a few months ago, this test was a very lengthy process which was very time consuming and also affected the delay of results. But now we have an amazing solution which makes the test process, faster, easier and reliable.
Dutco Tennant LLC brings to you the Bi-directional Walking Through Booth. This "walking through" testing station looks just like a public phone booth and it can be used for testing the traces of the virus in suspected patients. In areas such as the airport, hospitals, government facilities, and others, every day thousands of people from various backgrounds and areas visit. And this makes it very much important to have a complete check of them to ensure that they are not carrying any trace of COVID 19. The testing can be done very easily on this booth, all it requires for the suspects to walk into the booth and have their sample collected by the medical staff who is standing on the outside of the booth. This can also be used inversely where the medical staff will be standing inside the booth and the patients are standing outside and this makes it bi-directional. The test can be completed in just 1-minute!
The booth has a filtering facility and a fan system that prevents the spread of the virus and offers clean air flow circulation in the booth. This also makes it very easy to complete the post-sterilization process. The Glovebox technology allows medical staff to collect the samples without even wearing a PPE. The booths can be maintained in positive pressure, as well as in a negative pressure state, meaning they can be used anywhere, whether it be indoors or outdoors.
Configuration -
2 port bidirectional Negative or Positive pressurized Sample Virus Extraction Booth
Dimension: 1000(W) X 1000(D) X 2,500(H)mm
Filter Case
1 pair of Chemical resistance Glove
LED Lighting
Shelf
HEPA Filtering System
Positive or Negative Pressurized Setting
Expandable/Modular Model
Bi-directional intercom
Features -
Designed with High-Class Glovebox technology
Offers IPPE(Personal Protection Equipment) Level Protection
Faster sample extraction
Filtered clean air-breathing for medical staff and reduced staff exhaustion
Positive or Negative pressurized setting
Ample space for elderly people
Get them today from Dutco Tennant LLC, and start using it to perform rapid tests. With these little steps, together we can fight off this evil.
Get a Quote