Bringing the most innovative firefighting solutions from all over the world at Intersec 2020
Intersec is the leading trade fair for safety and security worldwide and it is undoubtedly the most successful communication platform for the protection and security industry. Every year in Dubai, this show attracts thousands of visitors and hundreds of exhibitors from all over the world. Dutco Tennant LLC has always been looking out for new ways to improve the fire safety standards of business facilities. And for that, every year we visit this exhibition to demonstrate our latest firefighting products.
So what can you expect to seat our stall this year? Let's have a look
Altitude Valves
Altitude valves are ideal for maintaining a preset maximum water level. The valve functions as a two-position control valve, either fully open or fully closed. It allows the normal forward flow to fill the reservoir to the maximum level and then closes drip-tight at the set-point. It opens to allow reverse flow through the valve when the supply pressure drops a fixed amount below the reservoir head.
Features
No overflows
Superior repeatability
Positive shut-off
Easily serviceable at ground level
MICC Cables
Mineral Insulated Cables are undoubtedly the ultimate fire survival electrical cable system. It is composed of inorganic materials (copper conductor, highly compressed magnesium oxide insulation (MgO), and the copper or Alloy 825 Sheath. MI Cable is a stand-alone product that contains no polymer, uses no zinc and does not require conduit protection. It is unaffected by the issues associated with cable-in-conduit systems and there have been no changes to the product that has consistently met the requirements for a two-hour fire-resistive system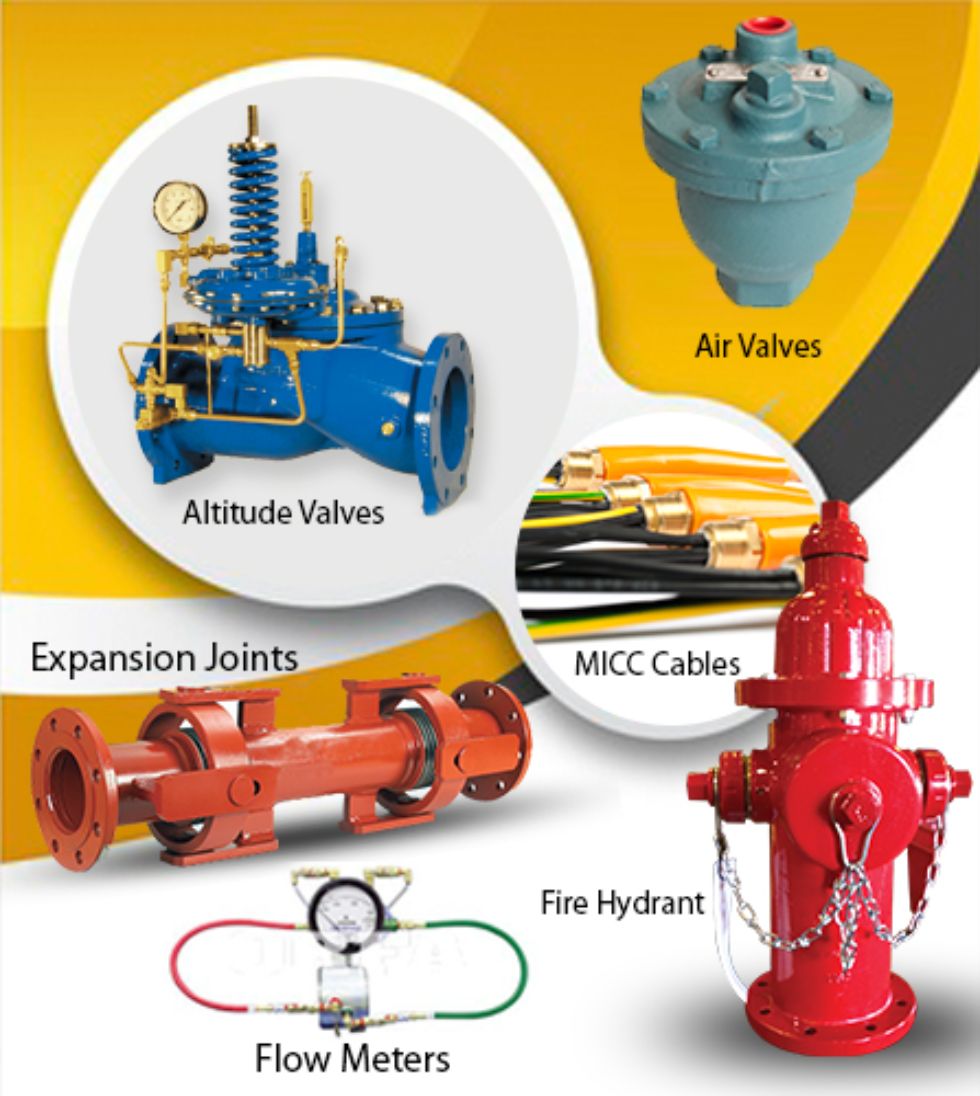 Air Valves Air Release Valves which are also referred to as "small orifice valves" are often fitted at the highest point on a pipeline to continually release air during system operation to protect against unwanted surges and maintain system efficiency. Features
Unconditionally guaranteed stainless steel floats
Simple Lever and Compound Lever Models
Stainless steel 316 internal trim
Resilient seating for positive shutoff
Expansion Joints Expansion Joints especially the Gimbal type is designed to permit angular rotation in any plane by the use of two pairs of hinges affixed to a common floating gimbal ring. Two single gimbal expansion joints combine together to make a double gimbal expansion joint. The advantage of this arrangement is the ability to absorb large lateral movement in any plane at each end. Features
Protects the pipeline systems against collapse and breakages by compensating seismic motions (earthquake) and large lateral and angular movements.
The movement of bellows is more controlled.
Internal flow liners for eliminating velocity problems may be fitted.
Anchors only require absorbing spring forces.
Pressure thrust is restrained by the hardware
Flow Meters For checking the flow rate on fire pumps, flow meters are used. Advantages of this product help users to check the pump values which are shown on their labels. They come in butt-welded or grooved connection and are FM approved. Our products have proven themselves over the years by standing every environmental condition over the years. Fire Hydrants Fire Hydrants have been in use in fire protection for over a century. We supply Fire Hydrants having a simple design, easy to install, maintain and repair. Our product sets a standard for quality in the industry and meets or exceeds all requirements for AWWA C502 latest revision, and is UL listed and FM approved.
Get a Quote