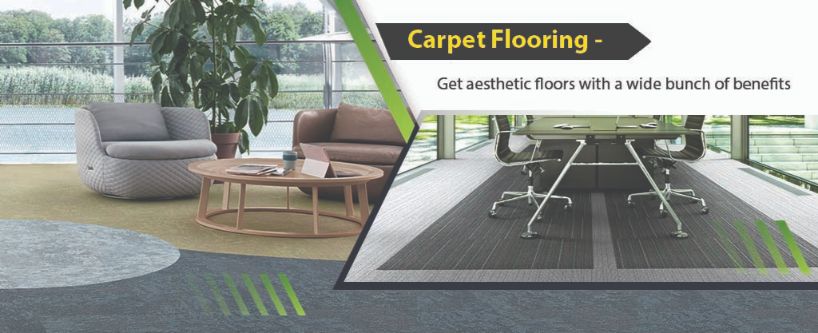 CARPET FLOORING – GET AESTHETIC FLOORS WITH A WIDE BUNCH OF BENEFITS
What is carpet flooring? Well it is a soft floor covering that is made up of bound carpet fibers, typically consisting of an upper layer of pile attached to a backing. Carpets are traditionally meant to be used indoors and they are suitable to be used in both high and low traffic areas. They can last up to several years without being needed to be replaced. They have been offering a right mixture of safety, comfort, performance and aesthetic pleasure. Now you may feel that carpets are only required to notch up the beauty of your interiors but they offer many more solutions than that. So, what are they? Let us break down below.
Appearance and Style - Let us begin with the most common usage of carpet that is adding to the overall décor with its several colors, patterns, and pile heights option. With carpet flooring, you can create the look you want to have in your home and business. Carpets are found with several colors, patterns and design options which can certainly fulfill the style statement.
Insulation - Being an essential contributor to the insulation of the indoor environment, carpet can help you to save energy. It provides a psychological feeling of warmth by insulating the floors.
Acoustic - Reports have suggested that carpets can absorb sound and the one having padding can further enhance this ability.
Health - Dust, allergens and other contaminants can get trapped in carpet, and it holds them until they can be properly removed.
Safety - With carpet flooring, you can keep yourself safe from slipping and falling and the injuries related to them especially on hard surface floors.
Easy to maintain - Carpeting is comparatively much easier to clean and maintain than hard surface floors and this cuts down maintenance cost by notches.
Cost Savings - IICRC suggests that carpets cost much less over time than hard surface floors for the complete process of buying, cleaning and maintenance.
Sustainable - Carpet flooring is highly sustainable and can last for a long time.
With all these all-round benefits, why are you still hesitating to take up carpet flooring for your facilities? Allow Dutco Tennant LLC, to help you out further.
We have superior carpet flooring solutions that can add elegance to the interior of your house at a very reasonable price. We supply products that have only A+/A rating and are Green certified.  They all are made from 100% nylon on the yarn portion. Dutco Tennant's carpet flooring solutions comprises of Carpet Tiles, Broadloom Carpet, and Prayer Room Carpet which all are designed to give you an eye-catching look to the interior of your house and office and satisfy the endless requirements of house owners and business owners. We are here to provide standard and comfortable carpets that can serve different needs.
We have been providing prayer room carpets for all around Dubai and Gulf regions, and our commercial carpets are comfortable to sit and walk on. Our products can be supplied quickly and undergo faster installation.
Get a Quote