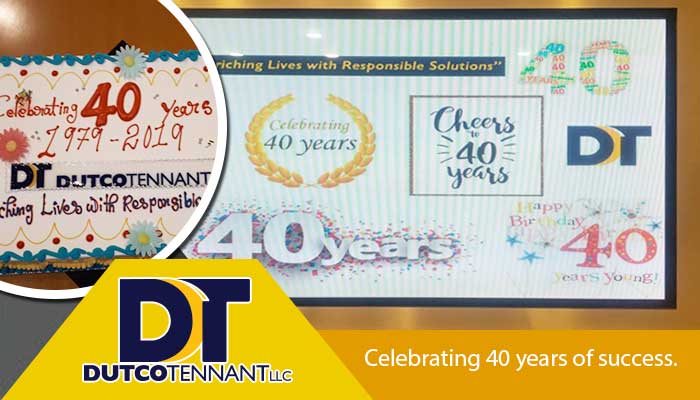 CELEBRATING 40 YEARS OF SUCCESS WITH EVERYONE!
Dutco Tennant LLC is one of the most sought after and leading supplier for various kinds of industrial and engineering solutions for diverse industry verticals ranging from construction to networking to electrical. For the last four decades, we have been maintaining a list of high-profile clients comprising of both corporate and government sectors and have established a good company profile. We have been contributing behind the creation of a new world of world-class infrastructure and have worked on numerous projects such as water and wastewater projects, airports, exhibition centers, shopping malls, networking infrastructure, hospitals, hotels, universities and offices around the Middle East and GCC region. Because of our pledge to excellence through environmentally friendly and socially-responsible solutions we have been trusted by thousands of clients. We uphold high standards of performance as we want to establish a long-term and competitive position in the market in which we operate. Dutco Tennant LLC works closely with its partners, manufacturers, and contractors to supply products that envisage more well-organized and sustainable uses of industrial resources.
Our company is celebrating 40 years of success, and wants to take this chance to express gratitude to everyone such as clients, consultants, manufacturers, contractors, suppliers, employees and others who have made this possible. We work with world famous manufacturers and use our skill as the leading supplier of industrial and engineering solutions to provide advanced solutions to big clients in the Middle East and GCC area.
At Dutco Tennant LLC, we have always kept customers before everything and set our targets. Every client has unique requirements, and we have standard and customized solutions for everyone. As we have long expertise in this area, we mix our dedication and expertise to give the right solution that solves the customer's needs.
Inventive solutions for different industries like Water and Waste Water products, MEP Supplies, Civil Infrastructure, Construction Specialities, Analytical Solutions, Business Technology Solutions, Water Treatment, Telecom, Fire fighting Products, Utilities, Maritime & Energy, Industrial Supplies, Material Testing, Educational and Training, & Instrumentation, Automation & Network Monitoring is provided by us.
The company has been serving the Middle East and GCC area for around 40 years, and in these so many years we have got hold of the market fundamentals to provide advanced equipment from global vendors to fulfill local requirements. We are growing fast and want to take this 40 years of success occasion to celebrate our success with you.
Get a Quote