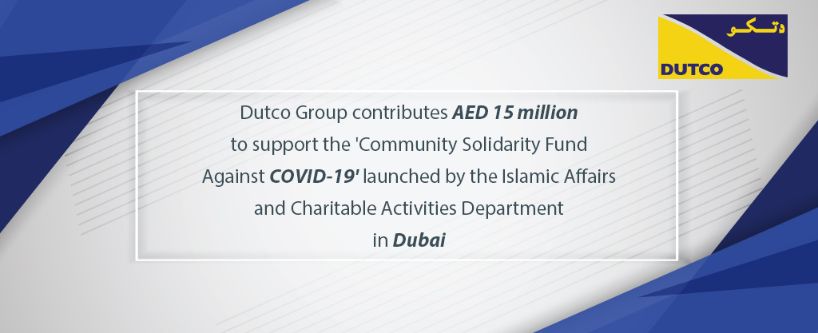 Dutco Group supports the Community Solidarity Fund
Dutco Group supports the Community Solidarity Fund Against COVID-19 with a contribution of AED 15 million
Our country along with the entire world is currently facing a huge crisis due to evil named COVID-19 which has disrupted all of our lifestyles and fell like a big thunderbolt. There is unfortunately till date no certified antidote for this virus but the entire world is trying their best to come up with one as soon as possible. According to experts the only way to stay safe is by maintaining social distance and staying home. Though most of us should feel fortunate to be able to stay at our homes and enjoy a break from our hectic lives with our family, spending our time doing activities which we always loved to do but couldn't manage time but this lockdown has not proven to be a blessing for everyone.
There are plenty of people who have lost their jobs, are stuck in places, don't have access to essential food supplies and are away from their families. Again no matter what may be the situation is,there are frontline workers who are associated with healthcare, essential service and various other important sectors who need to go out to their workplaces to keep us safe and running. Dutco Group believes that it is now time for us to support these real-life superheroes with everything we can do. We have pledged to support the Community Solidarity Fund Against COVID-19, launched recently by the Islamic Affairs and Charitable Activities Department in Dubai, with a contribution of AED 15 million. It is our humble and small effort to support and respect the efforts made to contain the COVID-19 outbreak and its health, economic and social repercussions.  Our contribution to the cause is the second largest financial contribution since the launch of the fund and we feel highly motivated to be appreciated by H.E. Dr. Hamad Sheikh Ahmed Al Shaibani, Director-General of the Islamic Affairs and Charitable Activities Department in Dubai. He expressed that the fund is helping to create new channels of cooperation between the private sector and government entities, which greatly support the efforts to safeguard the health, safety, and wellbeing of the community during this challenging period.
Ahmed AbdelRahim Baqer, Chairman of the Dutco Group Board said: "Our leadership has taught us that charity is inherent to the ethos of our country, as part of which it extends humanitarian support not only locally but also globally. Our contribution reflects our deep commitment to our national duty and shared social responsibility." He also stated that in this challenging time, each individual has a responsibility to support social efforts and he hopes that the cooperation between all segments of society will help mitigate the situation. So far the Emirati experience in containing the virus is a positive one that clearly reflects the spirit of solidarity between the private and public sectors.
Dutco group praises all the efforts of the front line workers who are working ferociously for battling the ongoing crisis and helping us to stay safe and healthy. We are closely monitoring the situation very closely with regular updates and will try our best to provide the necessary support to all those in need.
Get a Quote