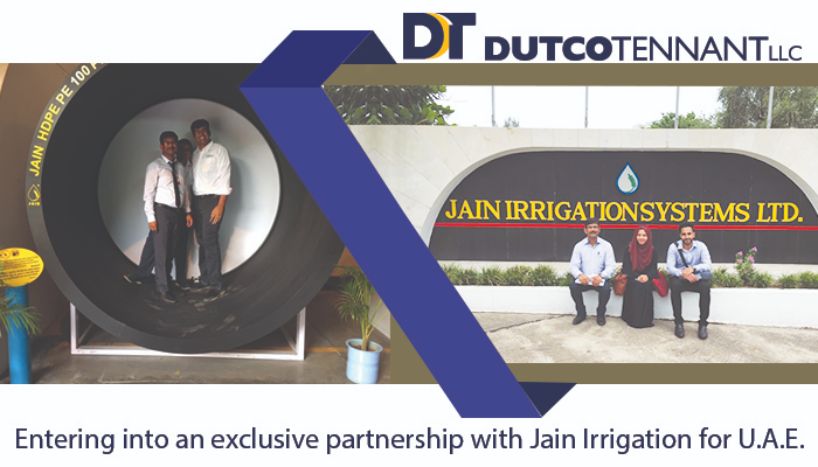 Dutco Tennant LLC Partners with Jain Irrigation Systems Ltd. to Supply Irrigation Products in U.A.E.
In an important development for Dutco Tennant LLC, we entered into an exclusive partnership agreement with Jain Irrigation Systems Ltd. – India for supplying inventive irrigation products in U.A.E. Jain Irrigation has one of the world's biggest manufacturing plants with equipment being supplied in 120+ countries. We recently visited Jain Irrigation Systems Ltd. in India and signed a deal to supply irrigation products for the entire U.A.E. market.
They have been in the irrigation products' field for an extended time now, and they have developed a genuine concern for nature to provide environmentally friendly solutions. Jain Irrigation's every equipment has been made keeping in mind nature's interest. They have a big product line to support turn-key projects around the world. Dutco Tennant LLC is a principal and well-known irrigation and landscaping product provider in the Middle East and GCC area, and this partnership with Jain irrigation will only help it to strengthen its foothold in the Middle East and GCC market.
Some of the important products offered by Jain irrigation are: Drip Irrigation-Drip Lines, Drip Tapes and others; Sprinkler Irrigation- Spary Heads, Jets & Foggers, Rainport Sprinklers, Overhead Sprinklers and others; PVC Pipes- uPVC Pressure Pipes, Column & Riser Pipes; PE Pipes: Jain HDPE Pipes, Silicoat PE OFC Ducts, Corrugated Pipes & Fittings and others; Plumbing Systems – Hot & Cold Water Plumbing, Cold Water Plumbing, Underground Drainage; Precision Farming; Green House: Poly House, Poly Tunnels, Net House and others; Green Energy- Photovoltaic Module, Water Heater, Pumping Systems and others.
Dutco Tennant LLC is a leading irrigation products supplier in the Middle East and Gulf region. Our business philosophy is based on the following principles: We are fully committed to customer satisfaction; we are concerned about safety and development of environment, we show market leadership in the areas we serve; we continuously work for quality excellence in every project we support, and we believe in the sustainable development of every stakeholder.
We show a constant commitment to quality and a strong drive for growth. Over the last four decades for which we have served this region, we have shown a rare resilience and strength. Our company is fully determined to improve the quality of its products and focus incessantly on novelty and development of its products and people. If you have irrigation products requirement in Saudi Arabia, U.A.E., Qatar, Oman, and other Middle East countries then you contact us for the same.
Get a Quote