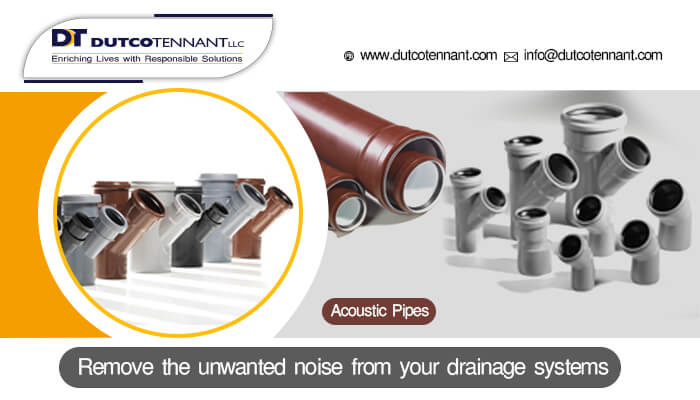 ENJOY NOISE FREE LIVING WITH ACOUSTIC PIPES
Noise has emerged as one of the most significant environmental problems of the modern era. No matter if it is in public buildings, residencies, or workplaces, nothing can be much more disturbing than noise. Though the acoustic insulation on external structural elements is no doubt good, the quality of life can be greatly impaired by the annoying noises inside the building. It is ultimately essential that consistent planned noise protection measures are carried out properly when new buildings are being constructed and also when existing buildings are being modernized.
According to the WHO or World Health Organization, there are a considerable number of specified adverse health effects that are caused by environmental noise. These effects can be medical conditions along with stress and disturbance with sleep and others. With the occupants being much more sensitive, sounds which were not termed as annoying a few decades ago and was accepted in multi-family houses are today regarded as 'unacceptable disturbance' and can lead to problems among the residents. Acoustic insulations in buildings can ease up the situation and offer comfort along with intimacy, privacy, and a sense of security. The heightened appreciation of private living space is reflected in higher expectations. In modern times, the buyers and tenants look for enhanced noise control. If it only complies with the legal requirements these expectations get disappointed. Unlike several other planning errors or defects of construction, noise disturbance is normally unaccepted. Building noise control and acoustics are two very serious issues. They mainly depend on several parameters which are not easy to predict the acoustic behavior of the building services. The arrangement of pipes, the materials by which the water system is made of and how the pipes are mounted are some of the serious problems. Sounds that come out from internal rainwater pipes and wastewater pipes are more annoying than others. The noise of the water falling is transferred with the means of unprotected pipes to ceilings and walls and from that place to adjoining rooms. Acoustic Pipes offers highly efficient noise control solutions mainly developed for this application area. Being a closed-cell insulation construction, these pipes can prevent condensation on the pipes reliably. These pipes can massively reduce the sound level with a thinner wall thickness. The materials of construction have an amazing sound reduction and decoupling properties across the frequency range relevant for building acoustics without any regards if they are installed on plastic or cast-iron pipes. They offer quick installation ability with rubber sleeve connections and allows you to quickly and easily build the pipe system which you want no matter it is new or refurbished. The wide choice of fittings will not just adapt to the modern wiring requirements but will also allow connections to the drainage system that are built from old materials that need renovation. With the help of high quality and noise reducing systems rightly placed, pipes can discharge water efficiently and reliably.
Benefits –
Amazing sound absorption properties due to its high-class raw materials and three-layer mineral reinforced polypropylene (PP) structure
Quick assembly and leak tightness with its rubber sleeve connections with guide marks
Optimal hydraulic properties
For low-risk installation and handling, high rigidity and impact resistance
It makes it possible to install them in very low temperatures
Long service life and minimal maintenance
A comprehensive system for flexibility in installation layout
Dutco Tennant LLC supplies Acoustic or Soundproof pipes consist of three polypropylene layers that optimally complement each other. Each layer has its own special effect on the characteristics of the pipe. Our range meets & exceeds acoustic measurements according to DIN EN14366 at the Frauenhofer Institute in Stuttgart (test report P - BA 53/2007).  For all your requirements in the Middle East, call us.
Get a Quote