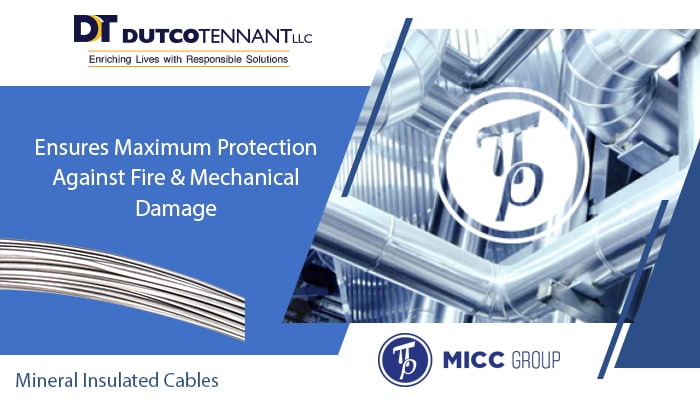 FEATURES OF MICC CABLES
You may have heard about the term MICC Cables, but do you really know what exactly they are? If not then don't worry, we believe this blog will help you out.
These cables are a specialized range of cable which are used in harsh environmental conditions or high-temperature conditions due to their low flammability even when they are being operated at high temperatures. It can resist oxidation and enables precise measurement.  These cables comprise of copper wires which are placed inside stainless steel, copper, or metal sheath that is insulated by minerals which are packed such as magnesium oxide and others. MgO is an excellent electrical insulator that resists oxidation and ionizing radiation and is both physically and chemically stable at high temperatures. After the MI cable has been packed with MgO insulation, it must be rolled under pressure for achieving the desired diameter. The outer sheath also protects the internal thermocouple wire from chemicals, hear, or any other environmental damage. For adding identification and an additional layer of protection, the metal sheath can be covered with an additional colored plastic sheath.
MICC group has a world-class manufacturing plant for producing the widest range of MICC cables. They can be used in several places like atomic research, blast furnaces, nuclear reactors, kilns, and others. We offer standard along with custom-built cables as per the customer requirements. We have a very flexible line so we are always prepared to meet the demands. More than one wire-like conductors or cores are embedded in a high insulation quality MgO and pressed into a metal tube made up of oxidation and corrosion-resistant material. The entire combination is then processed by using suitable forming steps for obtaining the final dimensions. Because of the good flexibility, amazing mechanical strength, and resistance to pressure, mineral insulated Thermocouples/RTD's can be installed in complex installations.
MI Cables of Features -
Mechanical Strength - MI Cables have high mechanical strength and can be attributed to the compact structure of Mi cables that consist of densely packed insulation material MgO with a tough metal sheath that firmly places the conductors in the compound.
Corrosion and Scaling Resistance -
The MI Cables that we supply from the house of MICC are resistant to scaling and corrosion so they can withstand unfavorable or harsh environmental conditions.
Long Life -
The manufacturing of the MI Cables is done in such a way that they ensure long conductor life as the sheath and insulation present in the MI Cable also helps the wire to stand against harsh environmental conditions. This makes way for accurate calibration.
Quick Response -
In the  MI Cable, because of the high thermal conductivity and small mass, quick heat transfer takes place that ensures speedy and fast response.
Long Length -
We offer long lengths of MICC Cables which were not available before.
Safety -
These cables are highly resistant to fire because of the use of insulation material. They are completely safe to be used in places having the risk of fire mishaps.
Radiation Resistance -
The radiation resistance features of the MICC cables are a boon in the application that involves high radiation. They are used widely in the primary circuits and inside the core in the reactors.
Moisture/Pressure -
The cable is allowed to tolerate high external pressure due to the homogeneity in the metal sheath which does not allow the flow of the majority of liquid and gaseous particles.
Being the most trusted name in the supply of high-quality firefighting products in the Middle East, Dutco Tennant LLC can get you the most advanced range of MICC Cables manufactured by MICC Group. They are the biggest manufacturer in the world and can definitely offer the best in class service and products. Checkout our range now.
Get a Quote