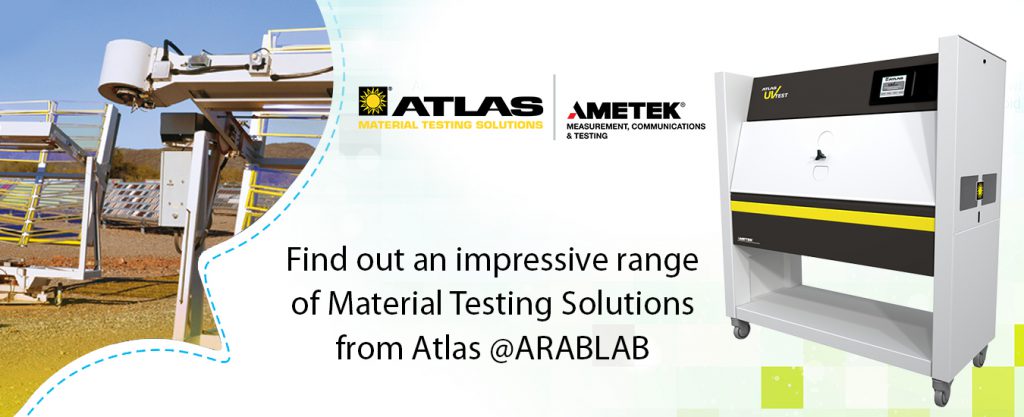 Find out an impressive range of Material Testing Solutions from Atlas @ARABLAB
ARABLAB focuses on pioneering solutions and innovations in analytical instrumentation and laboratory technology which is a field that is continuously growing and changing and has become very important worldwide. Each year, it attracts over 1,000 exhibitors and 10,000 visitors and provides a massive opportunity to all the visitors to explore the newest technologies of Medical & Pharmaceutical, Scientific Instruments, Research & Development, Ayurvedic & Herbal, Natural & Organic industries. Dutco Tennant LLC has been visiting this excellent exhibition for a very long time to allows its viewers to have an in-depth look at the newly revamped product range.
For over a decade, Atlas has been pioneering innovations in a way by which companies test the durability of their products. Since the first day till present, they have kept their focus the same which is to provide customers with sophisticated technology and advanced testing solutions for determining the longevity of their products that helps them to achieve a quality product, a competitive edge, a faster time to market. Atlas's exquisite product range is supplied to the Middle East by Dutco Tennant LLC. At this year's ARABLAB exhibition, we invite you to indulge in an exceptional product demonstration where our experts will be talking about Atlas's range of Material Testing and Characterization systems.
UVTest Fluorescent / UV Instrument
For fluorescent UV and condensation weathering test methods, Atlas UVTest is an economical and ideal weathering instrument. This instrument utilizes UVA-340, UVB-313, or UVA-351 fluorescent bulbs for a wide range of applications. Simple operation and control are provided by the touch screen in several languages and it also has patented irradiance ports for safe calibration not offered on competitive fluorescent UV testers.
Features -
Fluorescent UV lamps (8) - 40 W (UVA-340, UVB-313, UVA-351)
Black Panel Temperature (BPT) Control
Door safety and over-temperature shutoff
CE compliance and UL & CSA certified
Specimen Holders
Multi-language Touch screen display
Irradiance calibration safety access ports
Ergonomically designed specimen retaining rings
SUNTEST Family
SUNTEST instruments are compact material test chambers for accelerated lightfastness and weathering testing which is based on filtered Xenon lamp technology. All the SUNTEST chambers offer a horizontal test plane which is highly useful for testing 3D specimens. The lightfastness testing aims at testing material under solar radiation and temperature only. This range comprises of –
SUNTEST XXL+ which has an extra-large test chamber for standard lightfastness and weathering testing suitable for testing of 3D specimens, the SUNTEST XXL+ FB which is mostly used for testing Consumer Goods, Food & Beverages, and Packaging. SUNTEST XXL+ ST is designed for testing automotive exterior/interior parts according to SAE standards. SUNTEST CPS+ the original benchtop xenon and the SUNTEST XLS+ that provides twice the exposure area of the CPS+ and is used for 3D Specimen testing.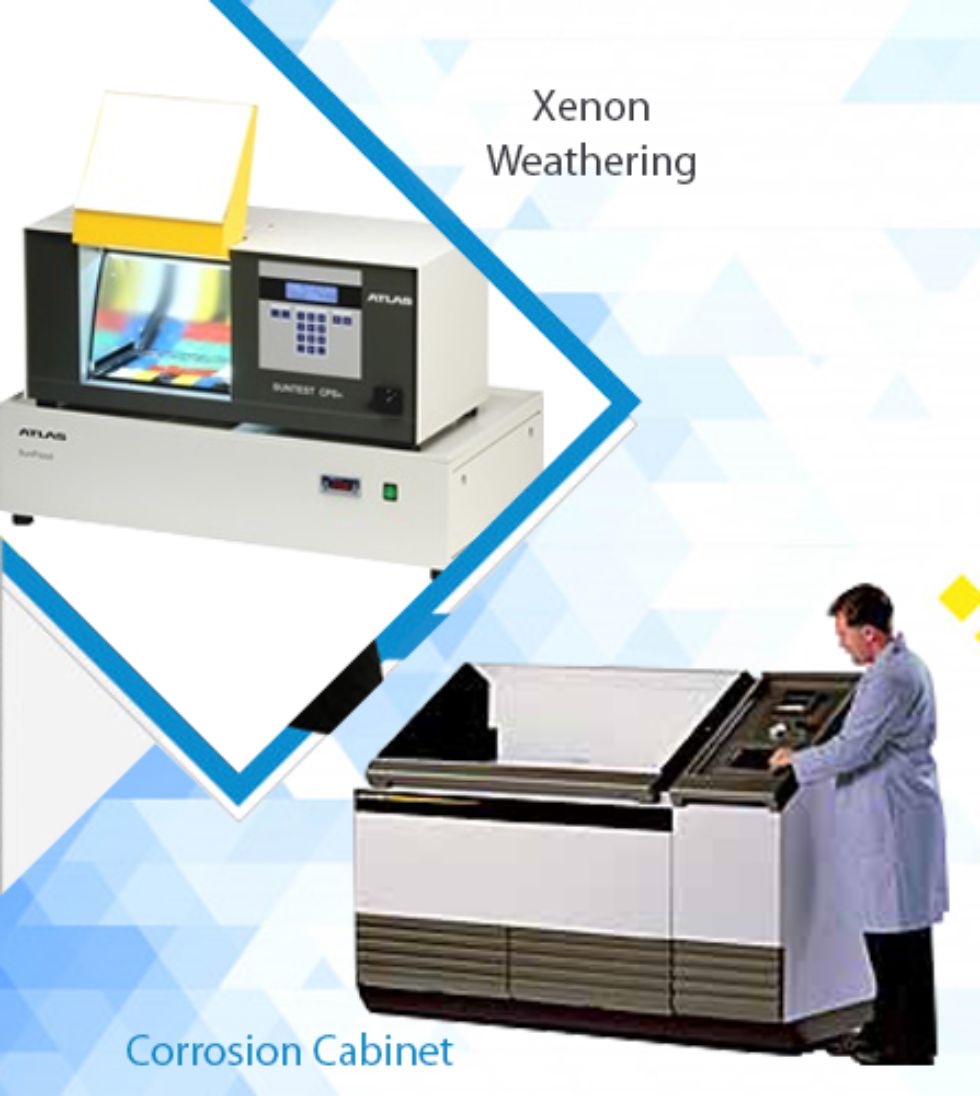 Corrosion Cabinets
Atlas's corrosion cabinets meet most international, OEM and related test standards when equipped with the appropriate options and accessories. For over the last four decades, they have been offering one of the broadest and most comprehensive corrosion testing product lines in the industry that is supported by global-local technical service.
Get a Quote