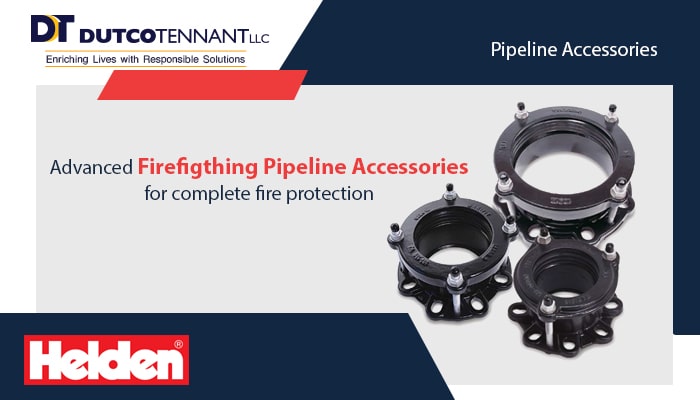 Fire Fighting Pipeline Accessories
Dismantling Joints are double flanged fittings which allow longitudinal adjustment in flanged pipe systems. It offers greater flexibility both at the installation and planning stages of flanged piping systems. Dismantling Joints provide a simple method for the installation and removal of flanged valves, pumps, flow meters, flanged pipes, and pipe fittings. Tie rods are provided for final anchoring and location and these also double as mating flange jointing bolts, reducing the number of these required.
Typical Applications
These joints are mainly suitable for making the installation and removal easier for -
        Isolation valves
        Non-return valves
        Flow metering equipment
        Pump sets
        Pressure reducing valves
        Flanged pipe and fittings
Typically dismantling joint applications consist of pumping stations, plant rooms, water treatment and sewage treatment plants, meter chambers, plant rooms, power generation equipment, and gas distribution stations.
Benefits and Features -
Longitudinal Adjustment
A maximum of 2" of longitudinal adjustment can be achieved, which depends on diameter. The telescopic action of the flanged spigot within the flange adaptor offers this adjustability. Once the required length is achieved, the dismantling joint can be locked at that length with the tie bars supplied. Fast and simple maintenance of pumps and valves are allowed by this longitudinal adjustment and it simplifies the future piping modifications that often results in reducing downtime and eliminates the needs for more complex anchoring systems.
Easy installation
With a torque wrench and a spanner, these dismantling joints can be installed.
Installation time
With high tensile steel tie bars, dismantling joints are supplied which means fewer tie bars will be needed, consequently, there are fewer tie bars than flange holes which makes the installation simpler and faster. These tie bars also act as flange jointing bolts which reduces the number of the required flange bolts.
Sealing
Dismantling Joint gaskets are compressed independently of the tie bars. By following standard flange adaptor installation procedures, speeding installation, compression of the gasket is achieved. It also makes way for a socket and torque wrench to be used which ensures that sealing failure cannot occur as the gasket is compressed to the required torque.
Corrosion and Protection
The flange spigot components and the flange adaptor of the Dismantling Joint are coated with the thermoplastic polymer as standard. This is approved and gas met to the stringent performance standards of WIS 4-52-01(part 1) which requires the highest adhesion, penetration, flexibility, and impact resistance characteristics which ensures that the dismantling joints are equipped well for withstanding storage, transport, site and corrosion damage. Alternative finishes are also available.
Flange Adaptors
Fire fighting Flange adaptors are your answer for fast and efficient flange installation in the field. By using ductile iron or steel pipe cut to dimension and a flange adaptor, you can quickly connect to virtually any 125 lb. faced and drilled flange. A mechanical joint type gasket is included with the flange adaptor and standard flange bolts and nuts are also used for making the connection. It does not require any other gaskets. The flange adaptors join plain end pipes of ductile iron or steel to flange pumps, valves, pipes, and fittings, or virtually any type of liquid and process equipment. They require no welding or threading and allow misalignment of pipe. The additional restraining connections are eliminated by the set screws and it prevents blow-off.
Are you in search of fire fighting pipeline accessories in the Middle East? Then why not check out Dutco Tennant LLC's range. For the last four decades, Dutco Tennant LLC has been earning recognition in the Middle East and GCC region as a leader in supplying a wide and unmatched range of industrial and engineering solutions for diverse industry verticals ranging from construction, networking to electrical. We feel extremely honored to be engaged in various business deals with a high-status list of corporate and government projects and have been contributing to the infrastructural development of various nations. We along with Helden, can bring you the most advanced range of solutions for your projects.
Get a Quote