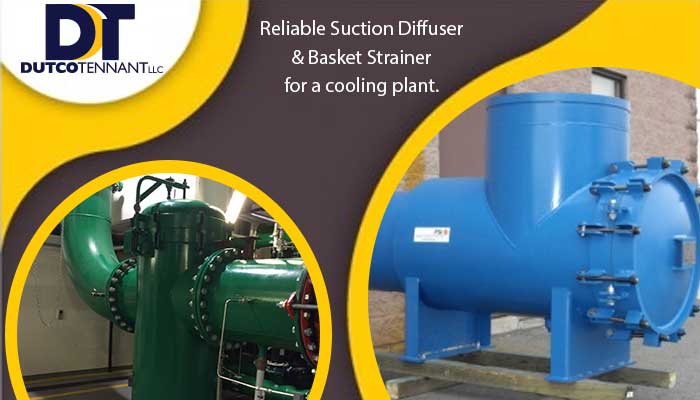 GOOD QUALITY SUCTION DIFFUSER & BASKET STRAINER PRESENTED FOR A PROJECT IN DUBAI, U.A.E.
Very good qualities Suction Diffuser & Basket Strainer were supplied for an important client in Dubai, U.A.E. for the construction of Business Bay District Cooling Plant -2. Dutco Tennant LLC is a leading water instrument supplier in the Middle East and GCC area. Get in touch with us for such quality solutions.
About Our Suction Diffuser & Basket Strainer:
Excellent quality Strainer in our supply has been designed for manufacturing flexibility. We can provide such pipe support instrumentsfor pipeline Sizes from 1" to 24" in carbon steel or stainless steel, and apart from that larger pipeline sizes can be made on demand. We provide three different ratings of flange connections which are ANSI Class 150, 300, and 600. Higher Pressure devices are also available. The strainer has an in-line design which may be used for most applications.
Many types of user friendly covers are available. The simplest of them is bolted cover, which is easy to use and cost effective and works well in various applications where basket changing is rare. Easy to remove covers makes it possible for a single person to take away the cover of the strainer. If you want to open the strainer for basket cleaning, a bolted cover may be less effective as it will take quite a lot of time to remove and then tighten the bolts. For these applications, we provide a special, hinged, quick opening cover which is secured by swing bolts. This type of fast opening cover can even be used for higher-pressure applications.
The Suction Diffusers supplied by us has the functions of a Strainer, Flow Straightener, Elbow and Pipe Reducer in one compact unit. Standard supplies from us have a quick release cover so that you can easily clean the unit and a 1/8" stainless steel punctures screen. Various optional screens, mesh liners, covers, materials and other custom options are available. Contact us for good quality Suction Diffuser & Basket Strainer for projects in the Middle East and GCC area.
Get a Quote