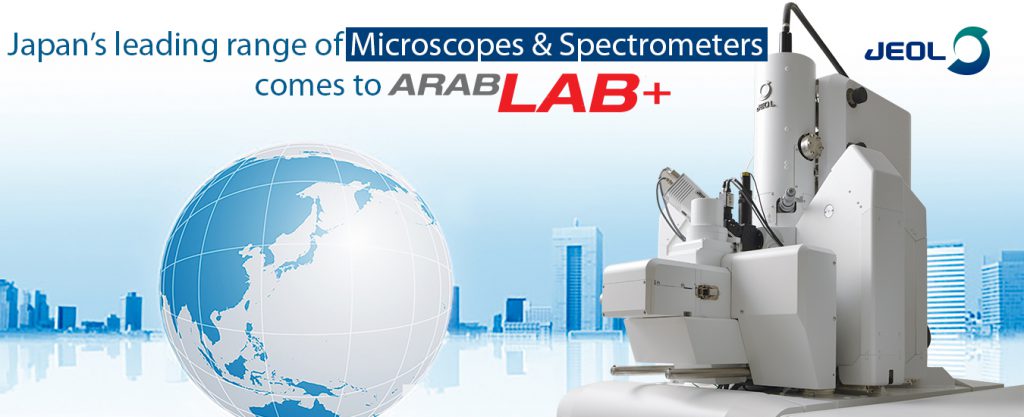 Japan's leading range of Microscopes and Spectrometers comes to ARABLAB
ARABLAB is a reputed trade show for the global laboratory and analytical industry in which more than 1000 exhibitors from over 100 countries meet the thousands of buyers and showcase to them their latest innovations for Science and Technology. It consistently attracts global buyers, investors and laboratory professionals from a host of different industries like agriculture, robotics, biotech, and food testing. Every year Dutco Tennant LLC upgrades its range of products to meet the ever-increasing market demands and participates in ARABLAB for showcasing its latest innovation to the visitors.
JEOL Group of Companies has been conducting business in mainly three segments which are Scientific and Metrology Instruments, Industrial Equipment and Medical Equipment. Analytical and scientific instruments are important tools that are indispensable for the development of science and technology as well as manufacturing. Their exceptional product range is known all over the world and Dutco Tennant LLC are the proud suppliers of this exceptional product range in the Middle East and GCC region. At the 2020s edition of ARABLAB, our experts will be talking about the newest line of Sample Preparation & Microscopy solutions.
JSM-IT500HR InTouchScope Scanning Electron Microscope
The newest addition to JEOL's InTouchScope Scanning Electron Microscope series, the JSM-IT500HR can increase your productivity with our fully-integrated software, from specimen navigation to analysis to report creation. This cutting edge SEM along with its high brightness electron gun system can provide amazing high-resolution imaging along with high sensitivity and high spatial resolution analysis at faster speeds.
Features –
Zeromag and high-resolution imaging
Element analysis in a flash
High-speed mapping and long acquisition analyses
JSM-7610FPlus Schottky Field Emission Scanning Electron Microscope
The highly acclaimed optical system of the JSM-7610F has been updated which achieves better resolution (15 kV 0.8 nm, 1 kV 1.0nm), and is now available as the JSM-7610FPlus. The Semi-in lens type objective lens and high power optics of the irradiation system deliver high-spatial-resolution observation and stable analysis capability. Adding to that, the JSM-7610FPlus can be equipped for satisfying a variety of user needs, including observation at low accelerating voltages with GENTLEBEAM mode, and signal selection using r-filter.
Features –
Semi-in Lens Objective Lens
High Power Optics
In-lens Schottky Electron Gun
Small Probe Diameter, Even With Large Probe Current
JEM-ARM200F NEOARM Atomic Resolution Analytical Electron Microscope
The JEM-ARM200F comes with JEOL's unique cold field emission gun and a new Cs corrector which compensates for higher-order aberrations. The combination of a Cold FEG and ASCOR enables atomic-resolution imaging at not only 200kV accelerating voltage but also at low voltages of 30kV. The system is also equipped with an automated aberration correction system that incorporates JEOL's latest aberration correction algorithm for automatic fast and precise aberration correction.
Features -
New ABF (Annular Bright Field) detector system
Perfect sight detector
Viewing Camera system
JNM-ECZR series FT NMR
The new research system ECZR NMR Spectrometer fully incorporates the newest digital and high-frequency technologies in a more compact size made possible by incorporating advanced integrated circuits, it supports even greater expandability options than current models for multi-channel operation, high power amplifiers and other accessories.
Features –
Highly Precise Digital Control
High-Performance DDS
Smart Transceiver System
Get a Quote