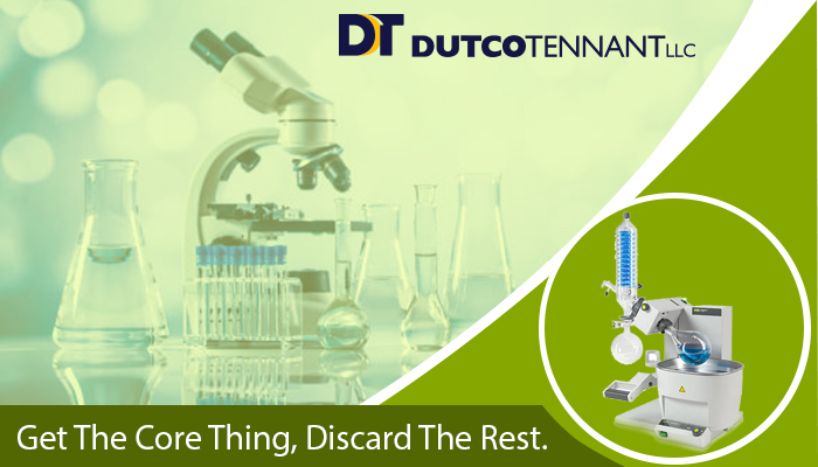 A Simple Solution For Complex Compounds!
A rotary evaporator is lab equipment used in chemical laboratories for removing solvents from samples by evaporation. In classical chemistry research literature, the process is described as "rotary evaporation". Dutco Tennant LLC believes that Buchi Rotary Evaporator (Rotavapor) – offering convenient and efficient rotary evaporation – is a better solution for this process, and always recommends it to our clients. This chemical lab solution meets highest expectations in handiness and flexibility: a modular design which works as a fully integrated system where a central interface controls each component. The Buchi Rotary Evaporator has a heating bath and a rotating flask, where liquid is spread as a thin film over the hot flask wall surfaces to let it evaporate quickly and easily. Control the evaporation rate through heating bath temperature, the flask size, the distillation pressure, coolant temperature, and evaporation flask rotation speed.
Why purchase this Buchi Rotary Evaporator?        
Easy to use switch to comfortably remove flask and vapor duct. Ergonomic electric or manual lift to ensure user-friendly operation. Intuitively positioned control knobs for immediate adjustment of heating temperature and rotation speed.
Can act as a plug & play extension to a complete integrated rotavapor system with a central interface, vacuum pump and recirculating chiller – designed as per your needs. Choose between 5 L high-temperature and 1 L fast-heating bath. Accessories available are: various glass assemblies, safety shield, heating bath lid, automatic distillation and foam detection.
Accurate results everytime!
A precise operation control that you have always asked for. Offering integrated digital display of heating temperature, rotation speed, and lift position. Trace all process parameters precisely including data recording and charting. Pinpoint process accuracy with instant push notification on mobile devices in case of process deviation.
Say us your requirements and our experts will guide you to purchase, install, and learn using this fine grade equipment.
Get a Quote