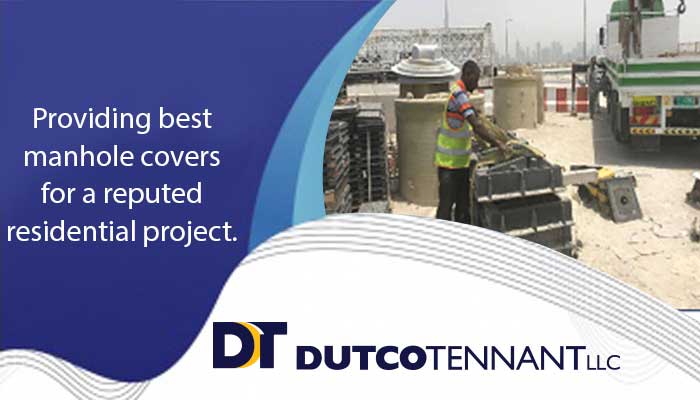 Long Lasting Manhole Covers Supplied for a Residential Project in U.A.E.
For many decades, Dutco Tennant LLC has been supplying good quality ductile iron manhole covers for clients in the Middle East and Gulf. We got the opportunity to provide international quality manhole covers.
Dutco Tennant LLC is recognized as leading company for supplying trustworthy, famed and vital civil infrastructure products in the Middle East and Gulf area, you can contact us directly for such products in the Middle East and GCC area.
Manhole covers are removable plates which are used as cap to cover manholes. Manhole covers are very useful as they can prevent anyone or anything from falling in such holes and also keep out illegal persons and materials from entering into these holes. Latest covers are usually made by tough ductile iron which is highly corrosion resistant, and can resist heavy vehicular traffic. A manhole cover is usually made of a metal base with a smaller inset rim that fits the cover. We work directly with renowned Manhole cover manufacturers in the world to offer strong, low-priced, and heavy covers that are commonly used in Airports, Railways, car parking lots, pedestrian areas and other residential and municipal works.
Established four decades ago, Dutco Tennant LLC is world's leading civil infrastructure products supplier in the Middle East and Gulf area. Working closely with International standard complaint manufacturers and exporters of high quality cast iron and ductile iron manhole covers, we are reputed suppliers in the Gulf region. With long track record and vast expertise we have a commitment to providing high quality products for many civil infrastructure products. The Company has received many awards and recognition in this field and may be truly relied upon.
Contact us for good quality manhole covers in the Middle East and Gulf area.
Get a Quote