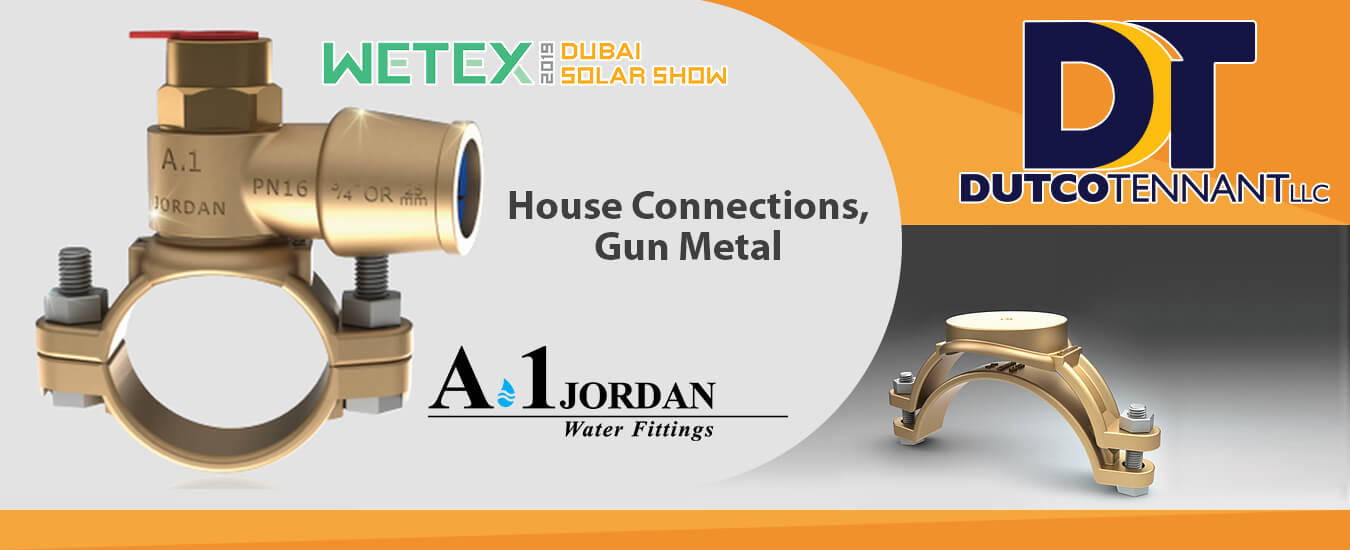 Newest house connections from A.1 Engineering
The Water, Energy, Technology, and Environment Exhibition (WETEX), slated to take place from 21-23 October is the best platform to review the latest technologies related to water, energy, environment, and resource management.It hosts a large number of experts, specialists, solution providers, investors, decision-makers, and consumers from both the government and private sectors. Dutco Tennant LLC in collaboration with IPEC will showcase the latest technologies for the Waste Water sector in this event.
Founded in 1988 by Munjed Saimeh, A.1 Jordan is a highly reputed company which is known for designing and manufacturing many water fittings. They specialize in producing PE, DI, GRE, AC & PVC Pipe Fittings, Gunmetal Water Fittings, Galvanized Fittings, Pp compression, and Valves. The cultivation of years exhaustive research and development, utilization of cutting-edge manufacturing technology and starting testing, A.1 Jordan's most exciting generation of water fittings are represented by these premium products. Their water fittings which are made by incorporation of cutting edge technology are easy to use and provide high-quality performance across the range. The fittings have been manufactured from high performance, advanced bronze & thermoplastic materials so that they are resistant to corrosion and have the strength and durability to provide a service life of over 20 years.
You will be demonstrated about the Gunmetal Straps and Ferrules from A.1 Jordan at WETEX.
Gunmetal Straps and Ferrules
The house fittings range of A.1 Jordan, which consists of Self Tapping Ferrule Straps, Swivel Ferrules, and Flat Boss Straps can be used to connect PE, copper and threaded pipes to almost any type and size of mains pipe material. Straps are available up to 10" in diameter as standard. Ferrules can be inserted directly into suitable mains pipe of any size as long as both wall sections and wall strength allow it. Their straps are simply clamped onto the pipe needing no specialized equipment to fit so can be installed easily in wet and congested trench conditions, offering several benefits over welded systems.
Benefits 
Available in a range of self-tapping ferrule straps and flat boss straps to suit mains pipe from 32mm.
Ferrules are available 1/2 to 2" 20mm to 63mm outlets
Design and selection of materials gives high strength for reliable installation and lightweight for easy handling
Quick and efficient installation onto all common pipe materials in virtually any trench condition, wet or dry
Prolonged life of fitting due to the high-quality corrosion-resistant materials used
Get a Quote