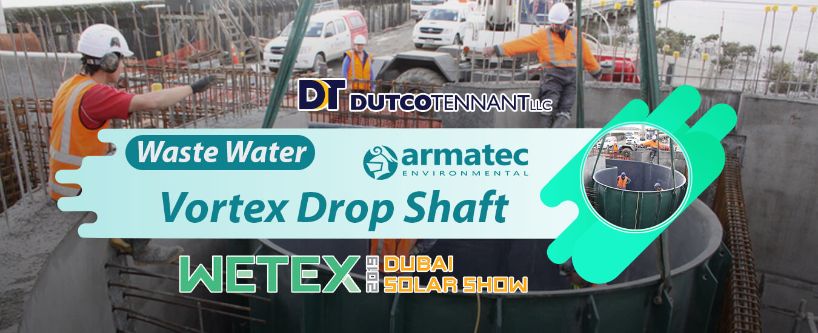 Get Introduced with Vortex Drop Shafts from Armatec at WETEX 2019
Water, Energy, Technology and Environment Exhibition (WETEX) has firmly established itself as one of the largest and most important specialized exhibitions in the region and is committed to pursuing sustainable development and accelerating the transition towards a green economy, not only in the region but all over the world. At this prestigious event, Dutco Tennant LLC will be introducing the next-gen product additions to our remarkable inventory in collaboration with Armatec Environmental.
With more than 40 years of experience in industrial and municipal projects, Armatec Environmental has achieved the position of the leaders in New Zealand as a supplier of industrial fiberglass products. They have been designing, manufacturing and supplying world-class industrial fiberglass (FRP) products and odor, pollution & control solutions. They work closely with customers, consultants, contractors and technology partners worldwide to implement cost-effective and innovative solutions to reduce emissions to the environment, on even the most difficult challenge or corrosive duty. They ensure delivering as they promised for their environment with their unique combination of strong, trusted solutions & leading-edge technologies, international networks & in-house design, pilot plant testing, skilled, passionate & experienced chemical engineering & fiberglass technicians along with immense experience.
This year at WETEX 2019 in Dubai, they will be exhibiting their prominent product Vortex Drop Shafts in our stall.
Vortex Drop Shafts
The ideal solution for erosion, corrosion, turbulence, odor and high sewage transfer, Vortex drop shaft is a self-activating energy dissipation system with no moving parts, designed to safely drop water or sewage from virtually any height in order to protect the infrastructure from noise, vibration, and damage. It is also used for reducing wall erosion, turbulence, and entrained air in pump stations.
It improves pump performance and reduces evolved H2S and other gases. The resulting lower H2S concentrations in the sewer atmosphere and increased oxygen levels in the sewage lead to longer asset life and reduced corrosion, thereby lowering maintenance costs which are a huge advantage for all municipalities and a significant benefit to balance sheets. Vortex droppers lead wastewater into a drop pipe to a pump station or large manhole. As the flow enters the central drop pipe, it is turned and swirled. They are widely used to avoid wastewater impinging on the side of the pipe or manhole in an uncontrolled manner.
Get a Quote