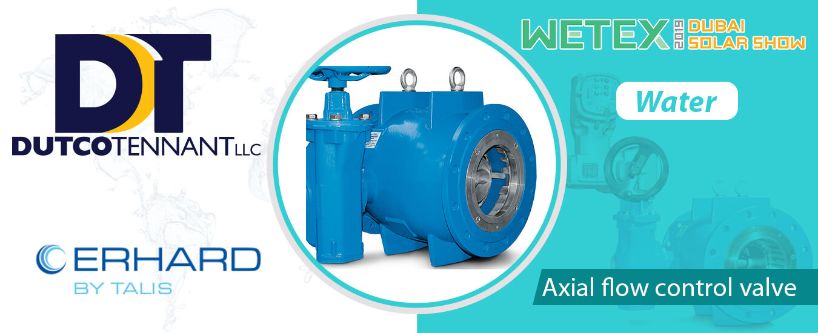 Meet the innovative ERHARD RKV needle valves with the four positive points
WETEX, the largest and most important specialized exhibitions in the region commits itself to pursue sustainable development and accelerating the transition towards a better world. It has been growing every year, attracting more sponsors, partners, experts, and government organizations. It provides a forum for all attendees to learn more about the latest innovations, technologies, and advances in research, regulatory information and other developments in water, energy and the environment. Dutco Tennant LLC wants to introduce their recent product additions into their inventory for the Water sector from Erhard.
With an impressive experiencing dating back over 140 years, ERHARD is one of the most important manufacturers of water valves in the world. They supply valves for all sectors of the water supply industry in all size ranges, from domestic service lines valves to valves for power plants. They also have a broad product portfolio in the sewage sector as well as of valves for large-scale industrial installations. In the field of valves, they offer complete solutions to problems, including technical calculation of the pipelines, combined with great specialist competence and many years of experience in valve construction.
At WETEX 2019, visitors can witness the exemplary range of ERHARD RKV needle valves at our stall.
ERHARD RKV needle valves - Axial flow control valve
With decades of experience in the design and production of needle valves with addition to the product features of the ERHARD needle valve, the ERHARD RKV Premium needle valve offers four major additional advantages. Which are:
Optimized flow guidance that results in low zeta values and enables cost-effective operation since the pressure loss is lower. Additionally, the formation of stagnant water is reliably prevented.
Up to 15 mm wide, the main seal is located in a hydraulically uncritical pressure zone is completely embedded in a stainless steel chamber. This results in optimum sealing and minimum wear at the same time.
Using at least four wide guide strips from a bronze-aluminum alloy, the piston weight force is being vertically and evenly distributed. This reduces wear and extends the service life.
ERHARD RKV Premium needle valve can already be precisely controlled from 4% opening which results in a control range of up to 96% in contrast to conventional needle valves having a dead stroke of up to 18%.
Get a Quote