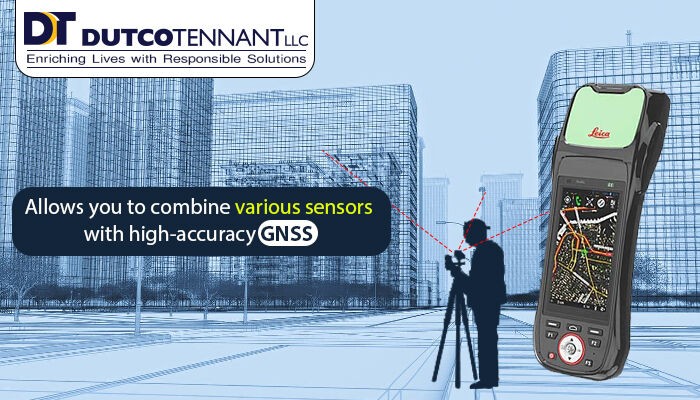 What are GIS Collectors?
Surveyors mostly rely on multiple technological tools everywhere for doing their daily tasks ranging from survey data collection to data processing.The necessary tools required for connecting every link of a project together are offered by GIS collectors and also give a base for sharing information with the departments which use data for accomplishing their tasks. The unique capabilities of the software convert the geographic data into spatial information which forms the basis for a better understanding of the world around us. The GIS Collectors from Dutco Tennant can simplify the data capturing tasks for GIS field workers, they have the strength of advanced technology in one extraordinary compact device. These devices are very easy to use and will offer you with exceptional benefits. Apart from that, our tools will offer you accurate results so that you get to be sure about the results. Their amazing productivity will allow you to accomplish a lot of your targets every day so that you don't miss out on anything. The inventive design offers enough ruggedness for holding up the pressures at any work site. They are covered with a warranty from the manufacturer and come with a durable waterproof and dust rating. It allows you to work remotely from anywhere using these devices which streams GNSS positions.
The main challenge for the field of GIS collection is GNSS-denied environments. By putting together exact and consistent positioning data is very tough for situations like this. This problem has been solved in the newest innovative technologies which are provided by leading vendors. We along with Leica bring to you instruments that combine the best measurement technology with the best GIS technology for offering you the newest solution in mobile data capturing.
Leica Zeno 20 –
The Leica Zeno 20 GIS collector is an extremely accurate and intuitive solution. It is the first high accuracy data collector tool that can run on a Windows Embedded Handheld 6.5.3 or Android operating system. Users are given permission to download their favorite Android apps for customizing the robust and highly precise data collector into a device that is extremely easy to be used as a smartphone. You will not even need the training to use this highly intuitive software, you can just simply open the box and while charging the Zeno 20, just go over 1-2 manual videos and you are ready to go with your first field job. It makes GIS data collection so intuitive and easy like never before. It has two new flexible software solutions that run on Android which are designed for offering a flexible, easy, and efficient data collection workflow for the non-GIS and non-survey professional while the new Zeno Connect streams RTK-corrected GNSS positions to any application with the help of the Android Location Manager. Adding to that the Zeno 20 offers a wide deal of content like free one-year access to the new Hexagon Imagery Program or access to OpenStreetMap data. The upgradeable GNSS options allow the users to choose the accuracy which fits their budget and needs. The solutions are compact and lightweight and come with a bright 4.7-inch outdoor screen, durable IP67 dust, and waterproof rating, along with a quick processor that can handle large amounts of data with ease. It offers more efficiency to the workers in the field. When you combine this with the DISTO S910, the hard to reach locations can be measured safely with very fewer hassles.
Get all your needs for GIS Collectors in the Middle East catered by Dutco Tennant LLC. Dutco Tennant LLC is a leading, famous supplier who provides Leica Zeno, Zeno collector, and Leica Zeno field products in the Middle East and Gulf countries. Dutco Tennant LLC is much more than an industrial and engineering solutions supplier but it is a complete solution provider for a wide range of fields. We have been the leaders in supplying various kinds of industrial and engineering solutions for diverse industry verticals from construction to networking to electrical
Get a Quote