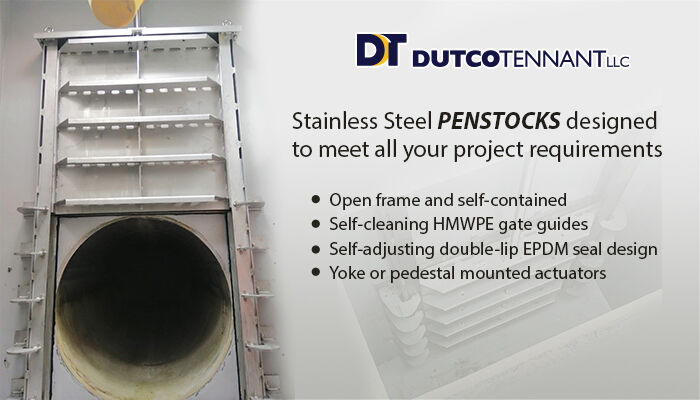 What are Penstocks and what are their uses?
Penstocks are used for controlling the flow of liquids and consist of a descending door that is controlled by an automatically operated spindle. Though the traditional cast iron and ductile iron penstock gates are quite popular, Dutco Tennant LLC supply several standard ranges which cover a broad variety of sizes, types, and operating conditions. The extensive wealth of experience that we have in this domain offers us the capability in delivering penstocks for any duty or size. The main application for a sewage stop log gate is to control the flow of liquid and isolation of fluids in the wastewater networks and sewage treatment plants. The advanced range of penstock that we offer is designed to support a wide variety of tasks. It is important to be able to select the penstock to match your work requirement, as we try to satisfy the design criteria and provide the most cost-effective solution.
Penstocks are permanents water gates that control the flow of water from one area to the next that can be adjusted manually depending on the desired flow. They are mainly used on Waterways, Power Plants, Industrial Effluent Plants, Hydro Power, Sewerage/Wastewater Treatment Plants, Drainage and Flood Control. Our supplied range of penstocks are made up of steel and offers considerable benefits over other materials like -
Operational -
Our offered range is considerably lighter than others which results in easy installation with no required grout between frame and wall.
Environmental -
Steel is UV stable and does not becomes brittle in direct sunlight. The units are made with pure materials and are completely recyclable. They provide a much lower carbon footprint.
Maintenance -
Our offered products require very much less lubrication between the frame and the door that offers a longer life product. The range has leakage rates that are less than both BS 7775 and DIN. 19569-4 class 5.
Unlike valves, penstocks are normally fitted into or onto the civil structure framework either in channels or over an aperture in a wall. Dutco Tennant LLC has a wide range of penstocks and stops logs which are completely suitable for sewage applications having the ability to make bespoke on quick lead times.
Features -
        Lightweight range of penstocks
        Available – wall, sidewall or channel mounted
        Easy and quick installation – no need for grout between frame and wall
        Materials are corrosion resistant
        Robust and rigid construction
        UV stable
        Fully recyclable
        Little to no maintenance required
Dutco Tennant LLC for more than four decades has been serving customers in the Middle East and GCC region. Being the number one penstock supplier in the Gulf region, with us you will get a wide range of stainless steel made penstocks using the newest technology. Our penstocks have been meticulously designed to prevent seal drag and to minimize wear and tear. We are glad to have been a part of several high profile projects in the Middle East and GCC region. We have supplied sewage water penstock to a large number of projects in these countries: UAE (Abu Dhabi, Dubai, Sharjah, and the Northern Emirates), Saudi Arabia, Qatar, Oman, Bahrain, and Kuwait. But our line of solutions is not just limited to Penstocks, with us you will be able to get a whole wide range of Sewage and Potable Water Solutions.
Get a Quote