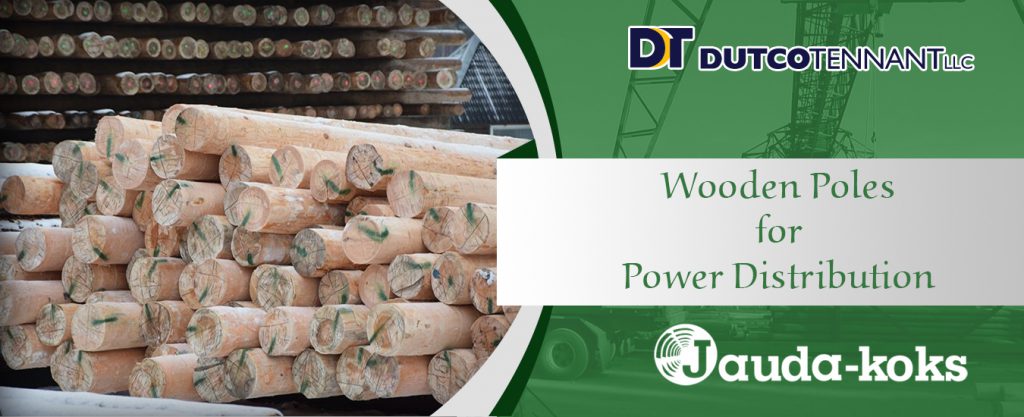 ADVANCED RANGE OF WOODEN POLES FROM JAUDA-KOKS
The Middle East Energy is positioned as a global energy event with exhibitors and attendees converging from every part of the world. This show is an amazing platform for energy manufacturers and suppliers for showcasing new technologies and innovative solutions covering the entire energy value chain. Being a forward-looking company which always tries to bring out the most advanced and updated range of products, Dutco Tennant LLC looks forward to bring to the Middle East an advanced range of  Utilities product which are bound to provide astounding benefits to the users.
Being one of the most experienced companies in the European wood impregnation market, people are very much aware of Wooden Poles from Jauda-Koks for Power Distribution and telecommunication applications. With their access to high-quality raw materials and several years of experience in this business, provides them with a significant advantage in a competitive environment. Jauda Koks's products include- tanalith E treated poles, creosoted poles, loading in containers, fence poles, metal storage containers, utility pole, etc . Their manufactured Utility Wooden Poles products under the major utilitiles solutions can be an ideal choice for your project requirements.
Wooden Poles from Jauda-Koks made for Power Distribution and telecommunication applications
The wooden poles of Jauda koks ltd are dried naturally over a period of 6 to 9 months, in a warehouse storing around 30,000 posts. These Utility Pole Solutions are highly reliable and suitable for use under the most challenging circumstances. With them, you can get poles of length varying from 7- 16 m. As a supplying partner Dutco Tennant LLC, will be supplying its range of Wooden Poles from Jauda-Koks for power distribution and telecommunication applications all over the Middle East and GCC region.
Be there at Middle East Energy Dubai Exhibition 2020 and experience the wide range of Wooden Poles from Jauda-Koks.
Get a Quote