Witness the finest solutions for Materials Preparation, Testing and Analysis from Buehler at Arablab
ARABLAB holds it's position as the world's leading buying and information platform for the most advanced range of technologies in the fields of Agriculture & Food, Biotechnology & life sciences, Clinical diagnostics, Drug discovery & development, Energy & petrochemicals, Forensics & Security, Laboratory technology, Robotics & Automation, Testing and Analysis, etc. Presently this magnificent event is visited by over 1000 Exhibitors from over 100 countries and more than 10,000 Buyers every year. It has emerged as the ideal place for establishing regional and global partnerships between the science industry and top buyers and distributors. Being a top-ranked supplier of the modern range of Science and Technology solutions in the Middle East, Dutco Tennant LLC always looks forward to introducing the visitors of ARABLAB to some of their most exciting range of products from the house of Buehler, such as - cutting set, number cutters, Buehler consumables, abrasive cutting, diamond testing machine, etc.
Buehler is a renowned manufacturer of metallographic testing equipment including scientific instruments & supplies for cross-sectional material testing. The highly advanced range of sectioning, mounting, grinding and polishing, testing and analysis and hardness testing metallographic equipment along with consumables from Buehler are used by metallurgical, metallography, petrography, research & development, university laboratories, quality control departments, and failure analysis facilities for the analysis of all types of materials. Dutco Tennant LLC supplies Buehler's superior range of Sample Preparation and Microscopy equipment to the Middle East and GCC region.
At ARABLAB 2020, Dutco and Buehler invite you to check out the most modern range of Sample Preparation and Microscopy equipment.
AbrasiMet M
The AbrasiMet M is a benchtop manual cutting machine for blades of 10in and 12in which provides consistent sectioning results. Easy access to the cutting chamber is provided by the sliding door to quickly position samples for cutting. The AbrasiMet M provides a smooth and efficient cutting motion with the aid of its powerful motor and ergonomic cutting arm.
Benefits –
Effortless cutting action
Durable machine for demanding environments
Dynamic performance
Universal Hardness Tester - Wilson UH4000
The Universal Hardness Tester UH4000 is designed for high volume production labs and production floor. It comes in two variants and is used for performing testing and analysis for several hardness scales with one machine, in most cases for higher loads (>5kgf). Because of its sturdy design, it is reliable and suitable to be used in rough workshop conditions. The innovative hardness tester features extremely fast testing cycles and a newly developed turret to hold several indenters and objectives. The operator can test a variety of test methods without the need for manual indenter/objective changes.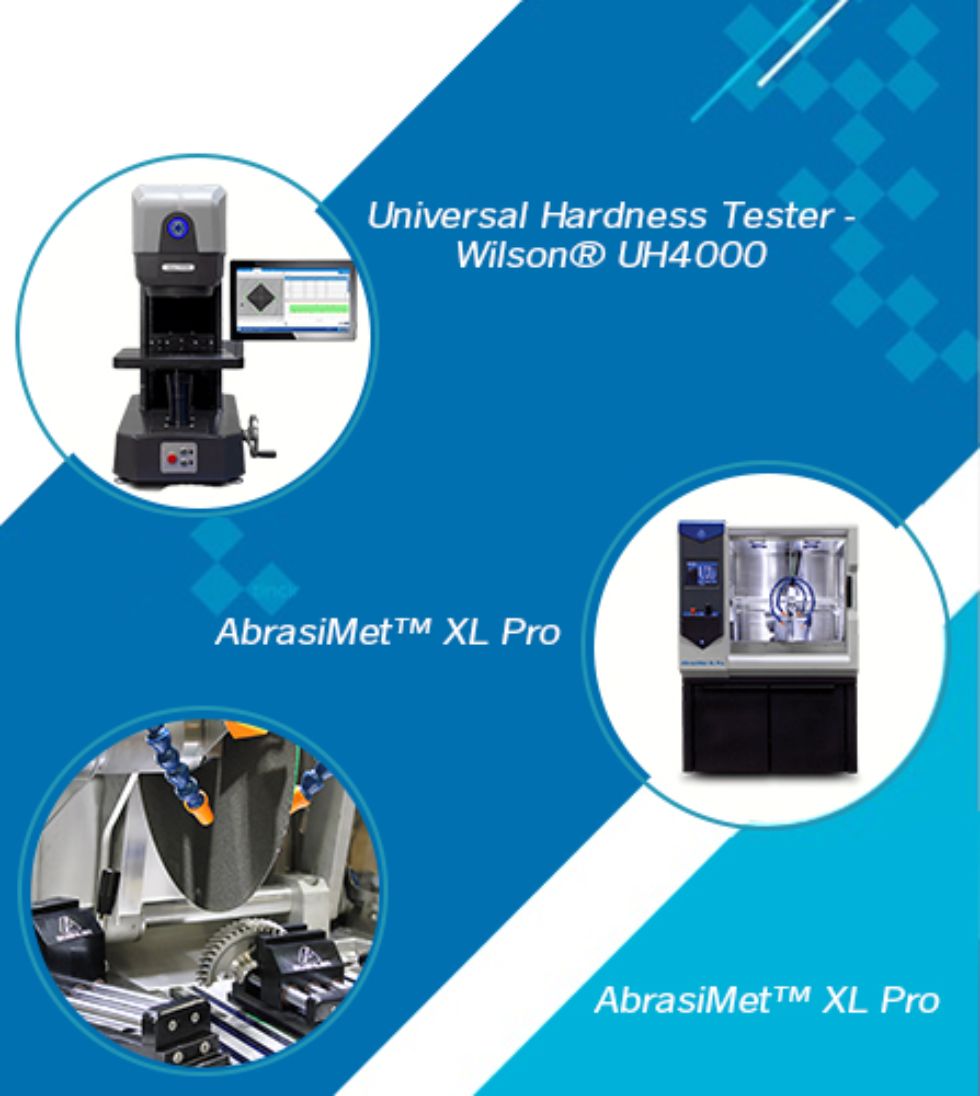 Benefits –
The unique 8 position turret will ensure that all your testing tools are installed and no manual exchange of indenters and objective is needed anymore.
The heavy-duty stage with a dimension will take care of your parts and components.
The frame is made from a very robust steel casting, perfectly fit for production environments.
High accuracy and repeatability of measurement results due to closed-loop load cell technology.
Automatic and manual Z-axis movement.
Workspace illumination for better visibility on your parts.
The floor-standing automatic abrasive cutting machine, AbrasiMet XL Pro is used for 14in to 18in bladed which provides consistent and repeatable cut quality for larger diameter samples. An intuitive user interface with programmable methods allows users to create and save multiple sectioning programs for quick access. The large chamber and powerful motor of the machine allow for fast sectioning of large workpieces with ease.
Benefits –
Intuitive and quick to operate
Robust machine for heavy-duty use
Powerful performance for demanding materials
Get a Quote