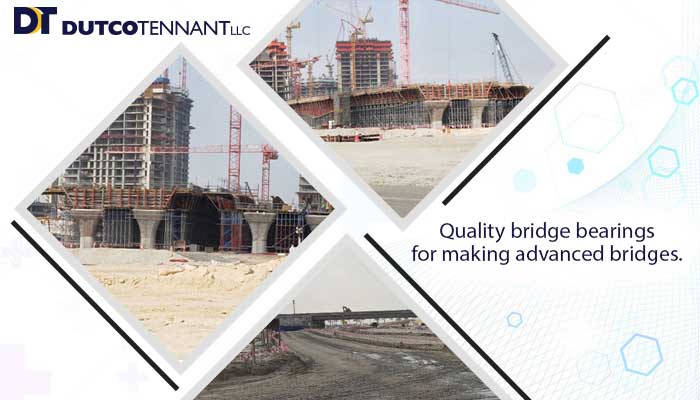 Aiding in Constructing World Class Bridges in Dubai
Constructing world class bridges require quality bridge building parts supply.   A new bridge project in Dubai required quality Bridge Bearings supply. Dutco Tennant LLC got the opportunity to supply magnificent Bridge Bearings for this client in Dubai. We gave this inventive solution for the project named Dubai Creek Harbor Development Island District. In this project, Dutco Tennant LLC's work scope was to supply Bridge Bearing (North & South Bridges). Our Company, big, famous, and dependable is a leading bride material supplier in the Middle East and Gulf area. As we are a reliable bride making parts supplier, you can directly get in touch with us for such requirements in this area.
Bearings are used to pass on vertical and horizontal loads from the bridges to the substructures, at the same time they permit specific movements like expansion and rotations by the superstructure, which may be because of wind, seismic effects, temperature variations, shrinkage, deck deflections, elastic shortening, or post-tensioning, or other reasons. Which bearings to use depends on the structures' type, design loads, what movements and rotations will take place, and may depend on the environmental conditions of the project as well.
Working closely with world's leading Civil Infrastructure product manufacturers, Dutco Tennant LLC supplies quality bridge making products. In this project, the parts were manufactured by AGOM – the famous elastomeric bearings manufacturer. Our company can deliver various Bridge Bearing which have been designed to withstand loads and concurrent deformation in any direction, letting minor rotations in any of the bearing's axes.  For example, Aegom's E-Link bearings can be made by rubber or can be reinforced with special sheet steel to increase capability and might. Present day's Bridge Bearings are produced with special attached plates or with sliding surfaces to advance the structure's dislodgment ability. These Bearings can be constructed in rectangular or round shape according to customer necessities.
Dutco Tennant LLC's bridge bearings have been designed to support big loads and simultaneous big shape change in any direction, while letting minor rotations in any bearing's axes.  A totally enclosed rubber filling is placed in a steel pan; under heavy pressure the filling acts like a liquid; rubber's elasticity supports sloping movement of the piston. Movement ability is facilitated by combining low friction substance's layer with a stainless steel surface. Based on the design, they can permit loads as well as expansions in longitudinal or/and transversal directions.
Get a Quote