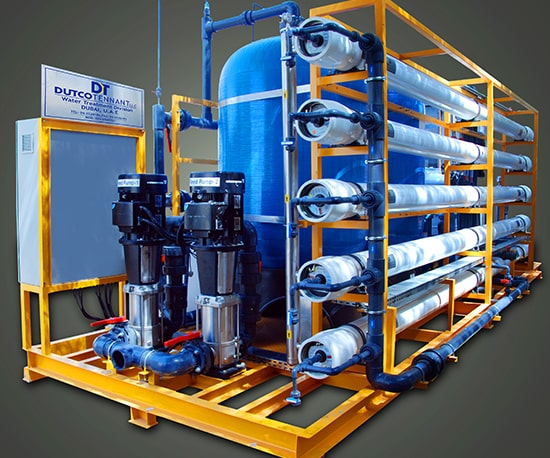 A reverse osmosis plant is a manufacturing plant where the process of reverse osmosis takes place. Reverse osmosis is a common process to purify or desalinate contaminated water by forcing water through a membrane.
Water produced by reverse osmosis may be used for a variety of purposes, including desalination, wastewater treatment, the concentration of contaminants, and the reclamation of dissolved minerals.
Source of water in it is Brackish water (less commonly brack water) is saltwater and fresh water mixed together. It is saltier than fresh water, but not as salty as seawater. It may result from the mixing of seawater with fresh water.
In most cases, a RO plant must be preceded by a proper pre-treatment to avoid membrane fouling by sediments, hardness, organic matter, bacteria, silica, metal oxides, or even chlorine.
Also, RO permeates water is often more acidic than the feedwater due to dissolved carbon dioxide. Common post-treatment is pH neutralization and remineralization.
Brackish water has moderate levels of dissolved minerals and salts. These impurities present makes the water unusable or very much less desirable for several applications. Our supplied brackish water Ro systems are designed by keeping in mind about the efficiency and ease of operation. Water is produced by our systems for meeting the most demanding specifications and several capacities are available for suiting specific requirements. Containerized Brackish Water Reverse Osmosis systems are also fabricated by us. Our systems are built into brand new 20 and 40-foot containers which meets the international quality standards. They are delivered to your facility to be completely ready to operate along with pre- and post-treatment systems, piping, pumps, and controls. Reliability and robustness for meeting the operational requirements of cogeneration plants, shipbuilding industry, municipalities, electronic plants, resorts, and others. Reverse Osmosis technology that is also known as hyperfiltration is used in all of our custom-made and stock reverse osmosis water treatment systems for purifying water by removing contaminants, salts, and other impurities. With a wide range of TDS and capacities, our full line of Brackish Water Reverse Osmosis is available.