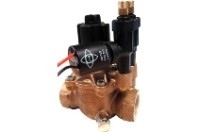 Dutco Tennant LLC supplies best in class agriculture and solenoid valves. These valves are names so because of their spherical body shape. These valves are mainly used for regulating flow in frequent and throttling operation applications. There is an opening inside the valve body which form the seat on to which the disc is screwed to shut the valve. The valves in this category have a slightly higher pressure drop than other straight-through valves such as Ball valve or Gate valve. Solenoid Valves are uni-directional and you must install them in the correct flow position. We are a leading solenoid valves supplier in the Middle East and GCC region and we provide Solenoid Valves from the world's leading manufacturers.
What makes our solenoid valves better than the rest?
They are 2-way microvalves.
Features ¾ inch male thread BSP.
Solenoid Valve's body is made with Nylon 6.6 with 30% fiber-glass.
The Valves are permanently clean as they have built-in steel mesh filter.
They have been assembled with screws and stainless steel spring.
Valves are made with Nitrile diaphragm.
Supports a wide temperature range from between 2 and 80 degrees.
Now you can control the flow of fluid using the flow of electrons. Addition of this liquid valve will enhance your robotic gardening, aquarium or pool project. There are two ½" outlets. Normally the valve is closed. When DC current is applied to the two terminals, the valve opens and water can flow. Unlike the plastic solenoid valve, this one does not have a gasket, so there is no minimum pressure requirement. When the valve is closed you may get drips when there is pressure from the waterside. These valves are compact, general service, two-way guide type solenoid valves for air, gas, water and other liquid applications. They are available in brass with a normally closed design and can be oriented in any position. The solenoid enclosure provides protection against dust, while also protecting against seepage of oil and noncorrosive coolants. For battery operation or other low-power applications, 2-way types can be supplied in latching (bistable) versions. All types can be supplied with mains or low voltage solenoid coils. Solenoid valve coils can be supplied with VDE or UL approvals on selected voltages. Ex m and Ex d coils are also available. Our portfolio ranges from two-position on/off valves to flow control systems that impact thousands of users. The power management technology sets a new industry standard for reliability and power consumption, accepting both AC and DC voltages while improving performance.
Features :
Can be oriented in any position
Compact design
Field replaceable coils
Features
Valve made of brass and stainless steel. Hi-flow diaphragm and resistant to high pressure.
Manual Steering Kit with 3-way valve.
Kit pressure regulator and sustainer control.
Solenoid valve.
Flow regulator.
Clean permanent filter through the steel mesh incorporated.
Assembled with screws and stainless steel spring.
reinforced EPDM diaphragm material.
Solenoid Series 24 V. ac. (SEE OPTIONS).
Working temperature between 2 and 80 degrees.
Recommended working pressure of 1 to 10 bars.
opening and closing response of 0.5 s.
resistance test performed for 25,000 cycles at 15 BAR and 80 degrees.
built-in flow control.
Flow range between 38 and 240 l / min.
Removable from the top to the settlement or replacement of parts
Meet the UNE 68-074-86 / ISO 7714 quality standards