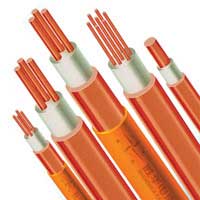 Mineral Insulated Cables are considered to be one of the best fire survival solutions. They are well regarded for their versatility and ultimate fire survival performance. With a basic inorganic construction of a copper sheath and conductors, together with a mineral insulant, the cable provides a unique combination of dependability, versatility, and permanence. This construction, with the melting points of 1083°C and 2800°C for the copper and the insulant respectively, provides the unsurpassed Fire Survival properties which enable the cable to continue to carry current at temperatures over 1000°C.
Mineral Insulated heating cables are suitable for use with high output requirements up to the highest operating temperatures. They are a reliable solution for frost protection, temperature maintenance and generation of process temperatures up to 700 degree Celsius. These cables can be used for heating of pipes, vessels, tank container, flanges and valves, and many other applications.  Mineral Insulated Heating Cables have a seamless outer jacket made from Stainless Steel or Alloy. They are made with inorganic material, the insulation of the inner heating conductor is embedded in magnesium oxide. The termination of a multitude of heating cable lengths with various outputs and nominal voltages are ensured by a wide range of resistances. The Mineral Insulated Heating Cables offered by us are factory terminated bulk cable upon request. A reliable and completely sealed assembly is essential when using mineral insulated cables. This is ensured by high precision laser welding technology. For your individual application, please feel free to contact our team of experts. We provide engineering services from initial design up to complete turnkey project execution. With more than four decades of technological expertise, we proved our potential and expertise in various industrial applications and have been participating in various public and private projects globally. We supply bespoke heating units and cables for our customer's requirements. We are specialized in cables for areas demanding high temperature, and for hazardous or corrosive environments. We offer a wide range of sheath materials in both single and twin conductors' configurations to ensure the most cost effective solution that can be supplied.
Features :
They are highly robust and mechanically stable
They are moisture-proof
These cables are Non-flammable
Advantages of Mineral Insulated Heating Cables :
High output per meter
High operating temperatures up to 700 °C
High chemical resistance
Hermetically sealed metal sheath
Applications :
Moisture-proof applications at high outputs and temperatures
Can be immersed in fluids
Chemical & petrochemical industries
Machinery and plant construction
Molten Salt Applications
Vacuum technology
Heat tracing on piping
Heat tracing on vessels
Get the top class products from the most reliable supplier in the Middle East and GCC region, Dutco Tennant LLC, at the best price. For more details regarding pricing and availability, please feel free to contact us.
Field of Application
Below are the typical applications we specialise in :
Trace Heating - Frost Protection
Trace Heating - Process Temperature Maintenance
Trace Heating - Hot Water Maintenance
Maintenance
Leak Detection Systems
Audit and Maintenance Services