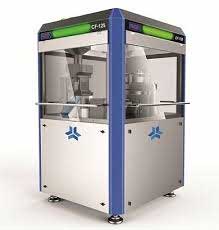 Dutco Tennant LLC provides analytical equipment and services for a wide range of tablet manufacturing work in the pharmaceutical industry, like visual inspection of capsules and tablets, temperature control, granulation, mixing, and blending. You can also do tablet printing, bottle filling, and packaging. The pharmaceutical industry has the most stringent manufacturing guidelines in terms of quality. Therefore, it is important that pharmaceutical manufacturing equipment goes with a good manufacturing practice. Pharmaceutical equipment includes a wide variety of equipment, such as capsule filling machines, tablet punch press, and others.
A grade, automatic bench-top Capsule Filling Machine for powder and pellet filling in the capsules. You can fill hard capsules using these machines. They have PLC controls and manufacturers have designed as per GMP and CE standards. Good quality machines for R & D laboratories, F & D scientists, process Development Laboratories, and others. Compact size machines designed for easy installation on any workbench. Their work cycle is totally automatic and you can control them by Programmable Logic Control (PLC).
Extraordinary, fully automatic capsule filling machines to meet high production capacity requirements. Many machines have dual capsule turn around the device and dual capsule hole molds. Therefore, you can satisfy higher production capacity without requiring more operators and space.
About Capsule Filling Machine:
Quality Capsule Filling Machines have been designed keeping different requirements of Pharma industry in mind. These capsule filling machines can satisfy high technology and exclusive performance needs. Loaded with advanced functionalities, it can match international level demands. Ideal pharmaceutical manufacturing equipment for capsule filling in industry, its performance and feature are above standard.
Industrial solutions machines in our supply have good appearance, exquisite workmanship, easy to use, and simple functioning. Therefore, they have a long life and you can use them for a long time without requiring maintenance. Disqualified capsules can be eliminated automatically, and you can recycle the medicine in the capsules thus increasing economic efficiency. Simplicity, user convenience, dismantling, installation, cleaning are its important features. Therefore, making the most of the Capsule Filling Machine you can replace molds of various capacities with each other to meet different production requirements.
Simply automating your capsule filling workflow these quality machines offer many benefits. You can fill different amounts in each capsule. Unattended working with automatic sample changing is possible. Machines offer safe working conditions. Fewer chances of substance exposure to humans. Contact us for good quality Capsule Filling Machine in the Middle East and GCC.
SALIENT FEATURES
Easy to Use
Mini Compact Size
Human Touch Free Capsulation
Maximum Output of 3000 Capsules / Hour
Auto Rejection of Un – Opened Capsules
Fully Automated Capsulation Work Cycle
Change Over Time 50 Minutes
All Contact Parts of SS 316
Machine manufactured as per CE , CGMP, GAMP Norms
Minimum BULK required for Trial is 100gms. ( 0.7 to 0.8 gm/cc TBD)
TECHNICAL SPECIFICATIONS
Model Mini cap
Capsules/hr. (Max)* 1500/3000
Capsule Size 00-0-1-2-3-4
Power supply 230v, Single Phase,50/60 Hz
Main Motor 0.09 KW, 1350 RPM, 230 V, 3 Ph
Vacuum pump 6/7.2 m3/hr
Vacuum System Inbuilt
Dust collector(optional) Flow 2800 LPM, Max. vacuum- 500 mm of water, filter: 5 micron
Compressed air 50 liters/min, working pressure 1-5 bar
Net weight in kg. 152
Machine size in mm. 643×635×873
Case size in mm 864 × 610 ×1194
Possible dosing combinations Powder ; Pellets ; Tablets (optional) and all possible
combinations (optional)
Environment temperature 20-25 degree Celsius
Relative humidity 40-50 % RH
TECHNICAL DATA
Possible Combinations STD
Powder
Pallet
Powder + Pellet (Tablet attachment is optional if required.)
Room Condition
RH -40-50 %
RT – 20-25 0