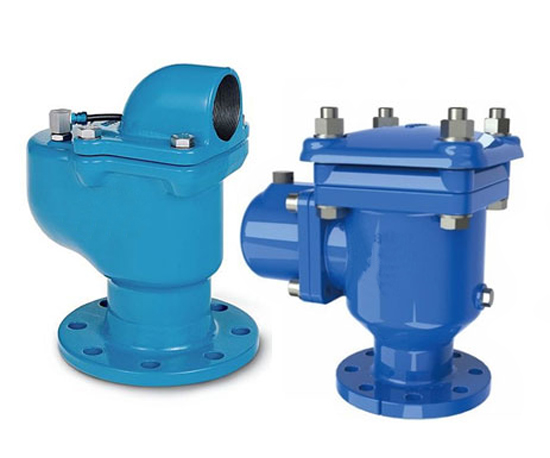 Combination Air Valve is a low-pressure air valve having a sealing mechanism that is built with a very soft and sensitive seal. It enables the full and effective discharge of air and besides that, the air valve will close and seal tightly when water fills the valve even in times when the water pressure is extremely low. A large amount of air is exhausted by Combination Air Valve during the filling process to ensure that the air can reach the outlet at very high velocity without the elevation of the float air valve and the premature shutting of the mechanism. This admits a huge quantity of air during line breaks and draining operations for avoiding vacuum in the sewage pipes.
The Combination Air Valve has the features of an air release valve and an air & vacuum valve. The air release component has a smart design that automatically releases small pockets of air to the atmosphere as they accumulate along with a pipeline or piping system when it is full and operating under pressure. The design of the air and vacuum component allows is to automatically discharge or admit large volumes of air during the filling or draining of a pipeline or piping system. To relieve negative pressures when water column separation occurs, this valve will open. These valves are also known as Double Orifice Air Valves and are installed on all high points of a system where the need for dual-function Air/Vacuum and Air Release Valves has been determined to release air and also to protect the pipeline from the vacuum.
Overview
Automated Sizing Program
Provides pipeline vacuum protection
Releases air pockets during system operation
Exhausts large quantities of air at system start-up
Provides the functions of both Air Release and Air/Vacuum Valves
Features
No premature closing.
Wider range of sizing options.
More compact and economical.
Exclusive high/low pressure resilient seating.
Dual body consists of two independent valves.
Inlets and outlets are equal to full nominal size.
Single body incorporates both features within one valve.
Allows individual maintenance while still protecting pipeline.
Available in light weight all stainless steel construction to eliminate corrosion.
Combines the features of both an air & vacuum valve and an air release valve..
Air & vacuum component discharges large volumes of air during filling of the system.
Air & vacuum component admits large volumes of air during drainage and at water column separation.
The air release component releases entrapped air in pressurized systems.
Aerodynamic design enables high flow rates of air both at intake and at discharge.
All main flow cross-sections are equal to or greater than the nominal port area.
No protruding levers : This features reduce maintenance and servicing to a minimum.
Specification
Sizes: DN50 – DN200
Float(s) : Stainless Steel
Pressure rating: PN10/16/25/PN40
Body, Cover: Ductile Iron /Cast Iron
Orifice balls: Stainless Steel/ ABS Plastic
Internal, external bolts, nuts: Stainless Steel
Guides, seat ring, guide ring: ABS Plastic
Hydraulic Test : 1.1xPN for Seat & 1.5xPN for Body
Coating: Nontoxic Epoxy Internally & Externally
Applications
Salt air
Mining
Leachate
Sewage force mains
Desalination/Brine
Raw water pumping
Industrial Wastewater
Grit and H2S laden sewage service