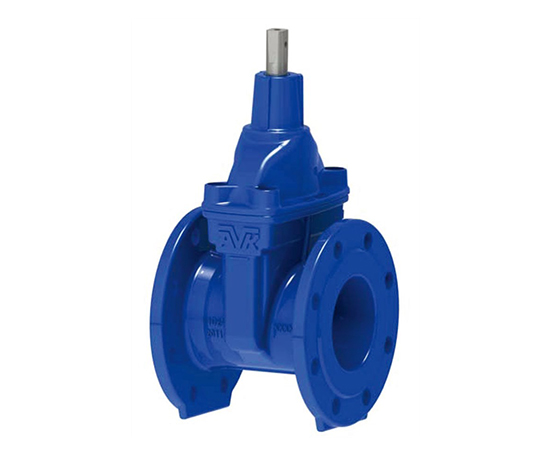 We offer DI Soft Sealing NRS, F5/F4 Type, resilient type flanged gate valves for potable water use. Resilient seated gate valves have rubber lined wedge and they find wide application in drinking water supply, irrigation, fire protection, pumping systems, industrial water systems, air conditioning system, and cooling water system.
These soft sealing resilient type flanged gate valves have a design principle which is popular for use in the distribution systems. These potable water products have been designed with a huge life expectancy.
About Resilient Type Flanged Gate Valves:
The soft sealing resilient type flanged gate valves that we offer are highly innovative, have ready to work design, and are entirely safe for a long lifetime use. These resilient seal gate valves are highly resistant to corrosion and abrasion and can withstand high pressure.
Their wedge is fully vulcanized with a kind of rubber compound that is safe for drinking water as in these valves gate is exposed to the fluid being controlled by the F5/F4 type flanged valve.
In non-rising stem resilient type flanged gate valves, the disc is packed with rubber to get exceptional sealing effect by resilient deformation of the rubber. This solves the problem of leakage, rusting etc. that is found in the general gate valves.
Features
EPDM rubber vulcanized ductile iron wedge

Resilient seated as per EN 1074

Full bore

No water leakage

Free maintenance

Low operating torque values

Hand wheel and electrical actuator operated

Satisfies ISO, UNE, DIN, NF, BS and AWWA standards

Fully resistant to corrosion

Non Toxic Blue fusion bonded epoxy coating

Has Flanged ends
Specifications
| | |
| --- | --- |
| Body | EN GJS 500/7 (GGG-50) |
| Bonnet | EN GJS 500/7 (GGG-50) |
| Wedge | EBDM/NBR |
| O ring | EPDM/NBR |
| Shaft | SS 316, SS316L, AISI-420 |
| Distance between flanges | F5, F4 |
| DN | 40/300 |
| PN | 10/16/25 |
| Coating | Internally & Externally Epoxy Coated |