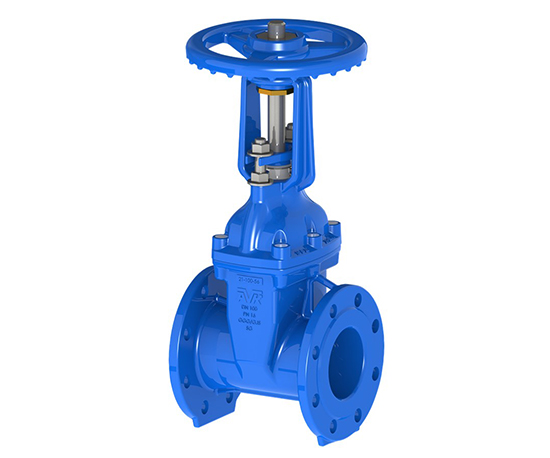 We are a renowned rising gate valves supplier in the Middle East and GCC region. We offer potable water rising stem flanged gate valves that are designed to meet different applications in water works.
The potable water isolation valves that we supply come with built-in safety features. The wedge of the valves is fully vulcanized with drinking water approved EPDM rubber. Durability is a key feature of these valves as they are made up of Steel, Stainless Steel, and Cast Iron. The double bonding vulcanization process and the strong wedge design ensure its parts are safe to use for long use. You can fully rely on these steel and cast iron Gate valves as they have high strength stem and full corrosion protection safeguards.
About Our Flanged Gate Valves:
The flanged gate valves that we supply are manufactured according to the industry standards so that they are safe to use.  They are hand wheel operated and cause minimal pressure drop in operations. You can be fully assured of the operational safety as these valves are hydrostatically tested and approved. These valves are bi-directional and can be installed in any position, however, preferably they should be installed with stem pointing vertically upwards.
These isolation flanged valves have a thread that lies outside the valve body. When you will open the valve, you will see the valve stem moving up so that you will get the idea of how much the valve is open by just looking at it.
Gate Valves are full bore valves, and since they have a metal seat these valves can be used in extreme operating conditions like high pressure and high temperature. In general, Gate valves are extensively used in different kind of industry like service industry, oil industry, and chemical industry.
We can supply you valves from all major rising flanged gate valves producers. Our potable water rising stem Gate valves are used widely in commercial and industrial applications, which includes hot water, cold water, stem, and other general utility services. Choose valves supplied by us as they are versatile, economical and find use in commercial, mechanical, and industrial applications, and they are also covered by manufacturer warranty.
Features
        EPDM rubber vulcanized ductile iron wedge

        Resilient seated as per EN 1074

        Full bore

        No water leakage

        Free maintenance

        Low operating torque values

        Hand wheel and electrical actuator operated

        Satisfies ISO, UNE, DIN, NF, BS and AWWA standards

        Fully resistant to corrosion

        Non Toxic Blue fusion bonded epoxy coating

        Has Flanged ends
Specifications
| | |
| --- | --- |
| Body | EN GJS 500/7 (GGG-50) |
| Bonnet | EN GJS 500/7 (GGG-50) |
| Wedge | EBDM/NBR |
| Oring | EPDM/NBR |
| Shaft | SS 316, SS316L, AISI-420 |
| Distance between flanges | F5, F4 |
| DN | 40/600 |
| PN | 10/16/25 |
| Coating | Internally & Externally Epoxy Coated |