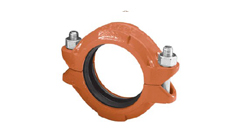 The Coupling housing is designed to self-centeraround the pipe. The housing encircles and retains the gasket against the application of internal system pressure or vacuum.
The housing key sections fit into and engage the pipe-end grooves around the entire pipe circumference, thus restraining the pipe ends from separation due to the application of internal pressure. Flexible Couplings provide designed-in clearances between the housing key sections and the pipe grooves to permit both angular and longitudinal movement of the pipe.
Rigid couplings grip the pipe and lock the joint into position. All housings are coated with paint for general service applications. The paint serves to provide protection against normal atmospheric corrosion. However, for couplings used in corrosive environments, hot-dip galvanizing, and stainless steelare available.
Features
Rigidity or Flexibility
Union at every Joint
Minimizes Noise & Vibration
Self Restraint System
Stress Free system
Accomodates Misalignment & Joint Deflection