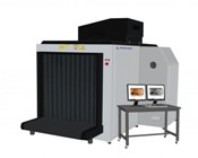 Astrophysics XIS-100XDX is the newest Dual View X-Ray Inspection System featuring a tunnel size of 100.0 cm x 100.0 cm (39.4" x 39.4"). The XIS-100XDX dual view x ray combines dual view technology with a low conveyor height of just 30 cm (12") for optimal heavy object screening.
Dual View technology utilizes two generators, creating two image perspectives. Coupled with 6 Color Imaging, dual view technology enables operators to increase image manipulation and object recognition.
The XIS-100XDX's low conveyor design and dual view detection enable operators to quickly scan heavy objects without any loss in threat detection accuracy.
Specifications
Tunnel Size (W x H) :
100.0 cm x 100.0 cm/ 39.4" x 39.4"
Dimensions (L x W x H) :
312.0 cm x 183.2 cm x 188.6 cm/ 123.0" x 72.1" x 74.2"
X-ray Generator :
Dual 180kV Generators, Operating at 165kV