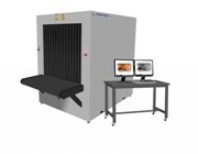 Astrophysics XIS-100X is a versatile X-Ray Inspection System with a tunnel size of 100.3 cm x 101.1 cm (39.5" x 39.4"). The XIS-100X is designed for screening oversized luggage, large parcels and small cargo.
One of the most desired systems in the XIS Series, it is a flexible, mid-sized system that offers diverse screening capabilities. The XIS-100X x ray inspection system retains high throughput while providing a bigger tunnel size for larger scale object screening. Thus, the system offers improved efficiency for medium sized screening needs.
Ultimately, the XIS-100X is the cost effective screening solution for airports, customs facilities, and high security sites.
Specifications
Tunnel Size (W x H) :
100.3 cm x 101.1 cm/ 39.5" x 39.4"
Dimensions (L x W x H) :
280.3 cm x 137.2 cm x 188.9 cm/ 110.4" x 54.0" x 74.4"
X-ray Generator :
180kV, Operating at 165kV