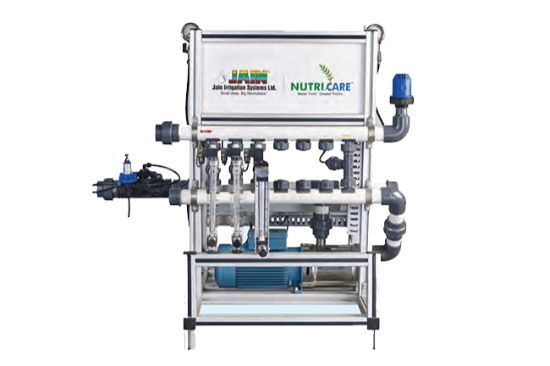 The correct quantity of nutrients to crops can do wonders in its healthy and efficient production. Fertigation is a widely used practice in farming that can ensure to do that. This technique combines two events at the same time - fertilization and irrigation. Our enhanced Fertigation Unit is the advanced version of this technique designed to perform better and offer better yields.
The unit comes with EC and pH electrodes monitors along with a set of electrically operated Venturi that ensures dynamic control of nutritions and acids. The flow rate of this Venturi type fertilizer is from 160 lph to 1200 lph each, and consists of a flexible suction pipe per injector.
Its specially designed controller helps in regulating the unit's overall performance. The inclusion of an additional pressure relief valve contributes to maintaining suction rate of the fertilizer. Whereas, the air release facility enables it to remove air consistently from the system and ensure the most optimized outcomes.
Operators can also adjust the injection rate of fertilizers as the unit comes with adjustable flow meters. This Fertigation Unit is suitable for nutrition management of crops precisely in an open field and also for Greenhouse and Nurseries.
BENEFITS/FEATURES
Allows precise nutrition schedule management
Ensures sensible fertilizer usage on crops
Expandable as per requirement, replacing the entire manifold not needed
Seamless installation into the current Drip system
User-friendly adjustment for fertilizer program
Smart control and safe operations
Durable and strong aluminum frame
APPLICATIONS
Open field crops
Greenhouse
Nurseries