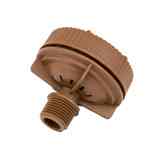 Dutco Tennant LLC has been able to earn an honorable position in the market of the Middle East and GCC region as a trusted supplier of various kinds of industrial and engineering solutions. We are known among the customers for our uncompromised service and time punctuality and also as a company which always provides the best solution for every demand. For the last four decades, we have been working with various public and private sectors and have been working behind the infrastructural development of various nations. Our ongoing and completed projects include airports, exhibition centers, shopping malls, networking infrastructure, hospitals, hotels, universities, schools, industrial plants, etc.
The flush valves are mainly used to automatically flush the lines of a drip system at the beginning of each irrigation cycle. They are installed at the end of each drip line or drip lateral and they release approximately one gallon of water each time the zone is turned on. These valves help to reduce the maintenance of your irrigation system and increases dripline performance. For periodic flushing of the irrigation system at the start and end of each irrigation cycle, they are used. A small amount of water passes through at the start and end of each cycle, flushing debris that may have accumulated in the system ensuring optimum system operation and performance. Suitable for diverse irrigation applications, our supplied flush valves clean out the dripper line at the beginning of each irrigation cycle and reopen prior to the next cycle. It must be made sure that while installing an automatic flush valve that it is covered with an 8" irrigation box. It is recommended to observing the flushing operation after the completion of the installation to ensure that each valve is flushing properly, and then to repeat this observation at the beginning of each irrigation season. The pressure must be checked and compared to the lat maintenance inspection.
Modes Operation
Normally open – full opening at the beginning of the irrigation cycle.
Flushing – while pressure builds up in lateral, water velocity flushes the debris out through the opening.
Closing – A small quantity of water flows into the upper chamber, causing the diaphragm to seal openings. It remains sealed until the irrigation cycle ends, and then the diaphragm gradually opens again.
Specifications
No moving part, no spring
Withstands chemicals and fertilizers
Low sensitivity to water quality
UV Resistance
Simple structure, easy assembly, and reliable operation