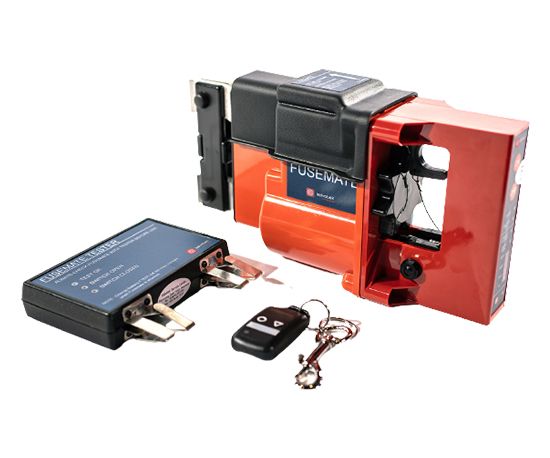 Engineers attending site after an LV fuse rupture are under time pressure to understand the cause of the rupture, replace the fuse and fix the underlying problem to keep customers on supply and avoid potential penalties.
Fusemate is a re-energisation device that significantly reduces the risk of personal injury when replacing LV fuses. It allows a potentially faulty or overloaded circuit to be safely energised from a distance of up to 30m.
When Fusemate completes the circuit, a clear LED bar graph illustrates the circuit conditions to a safely distanced operator, allowing an assessment of whether the circuit is operating normally, whether it is heavily loaded, or whether a fault condition persists - allowing the operator to safely assess the situation and take appropriate actions.
Benefits:
Reduced risks to personnel: Fusemate can be operated at a distance of up to 30 meters from the fuse position, dramatically improving safety for staff.
Easy for novice users: Fusemate is easy to operate, even for less experienced or standby staff who may be called out to urgently assess supply restoration requirements.
Rugged and reliable: Fusemate is ruggedly engineered for dependable operation under the most severe working conditions and is ideal for use by a single operator.
Supports decision-making: Fusemate helps an Operator quickly assess condition of the circuit, and determine whether a fault is intermittent or persistent.
Capability:
Re-energisation device carries maximum load while circuit is being tested during fuse replacement
Remote activation up to 30m distance from fuse position using supplied wireless fob transmitter
Can be used in substations, link box and pole-mount fuse positions
Compatible with JS and JP fuse stalks
Optional adapter kit allows parallel connection during live cable jointing
Optional adaptor kit for on-standard LV underground distribution boxes, kiosks and feeder frames