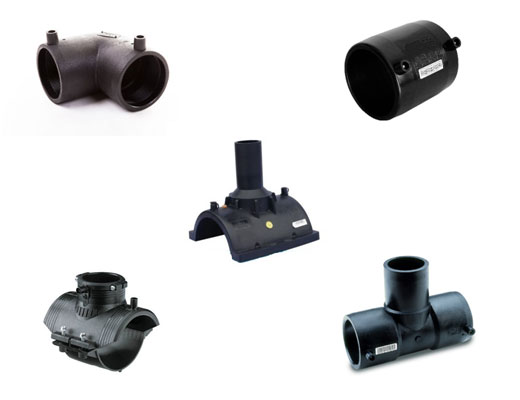 Standard
ISO 4427:2007, ISO 6964, ISO 3126
Material
High Density Polyethylene, PE 100
Application
The above fittings are used to connect pipes or valves in the network.
Specification
Fittings shall be injection moulded and
Dimensions of fittings shall be measured in accordance with ISO 3126.
Meets requirements of PE 100+ Association,SDR 11, PN 16
Carbon black content in compound : 2.25 + 0.25%, by mass in accordance with ISO 6964.
Minimum required strength (at 20ºC): 10 Mpa, Design temperature: 40 Deg. C
Minimum Density at 23ºC – 0.95 g/cm3
Melt Flow rate at 190ºC & 2.16 kg load –
Melt Flow rate at 190ºC & 5 kg load –
Yield Tensile Stress (at 23ºC) – 25 Mpa
Elongation at break - >600%
Thermal conductivity: 0.4 W/mo k
Vicat softening point at 1 kg load = 124ºC
Design Pressure: 16 bar, 25 bar, 40 bar.
Suitable for electrofusion and fusion indicator to indicate fusion after process.
Copper coils as heating element.
Bar code available for scanning by electrofusion machine.
Potable water certificate is available.
The thermal stability of polyethylene material meets the requirement of ISO 4427.
Hydrostatic strength of fittings compliesto ISO 4427 when tested in accordance with ISO 1167.