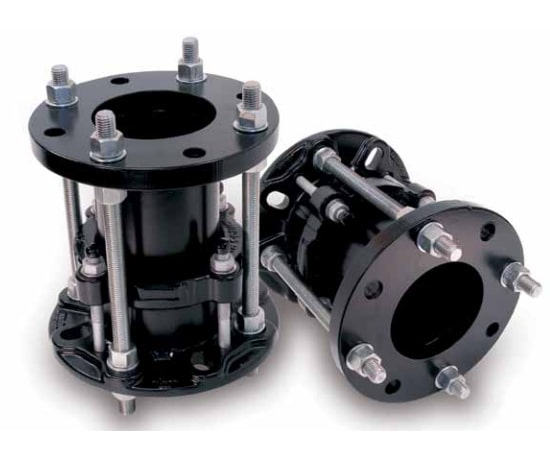 Dismantling Joints can play a decisive role in the design and layout of valves and pipelines. They are an essential aid for the removal and installation of pipe sections and valves. Without the use of a dismantling joint that offers longitudinal adjustment, it is not possible to insert a valve exactly into a pipe section. All thanks to this adjustability of the dismantling joint, the valve can be easily fitted next to the dismantling joint and the dismantling joint can be set exactly to the exact length which is needed prior to being securely connected to the flanges. The reverse sequence is used for dismantling where readjustment of the length of the dismantling joint makes way for enough space to loosen up and remove the valve. In both of the cases, the dismantling joint ensures fast installation and removal, these contribute to increased efficiency and reduces site operations and downtime. The procedure is much similar to pipe sections which had to be fitted together. Certain types of dismantling joints are also suitable for use without restraint in flexible pipelines. The dismantling joints can be used to fill gaps where a pump installed in a fixed position has to be connected to a pipe protruding from a wall.
Specifications
Adaptor sleeve: DN 50...150/200 ductile iron EN-GJS-400-15 (GGG40), DN 175/250...2000 rolled steel
Adaptor flange: DN 50...80/125/250...2000 steel, DN 100/150...200 ductile iron
Adaptor end ring: DN 50...300 ductile iron, DN 350...2000 rolled steel
Spigot: Steel
Seals: EPDM
End ring fastener studs: 304 SS
Threaded anchor bolts: 4.8 electro galvanized
Features
Full Range Sealing
For applications where a full-face flange is required, butterfly and wafer valves. The flange of the spigot piece offers a full flange sealing area.
Excellent Corrosion Protection
The flange adaptor and flange spigot are coated with Rilsan Nylon 11 approved by WRAS that offers excellent protection from storage, transport, corrosion damage, and site. The tie bars are Zinc Plated as standard with other grades, coatings, and finishes that are available on special request. The bolts and nuts have been coated with WIS-4-52-03 which can offer long-term protection from corrosion.
Ultimate Sealing Capability
The EPDM gasket has been compressed independently of the tie bars with the sealing capability that is secured as soon as the fasteners can reach the required torque.
Simple to Fit
Within the bolt circle, harnessing can be achieved by eliminating other complex anchoring systems and by reducing the requirements of space.