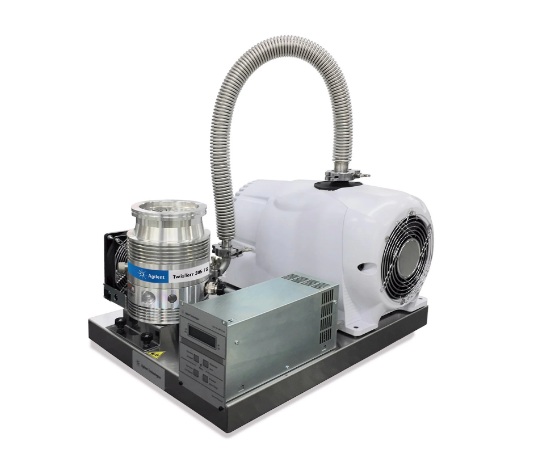 Modular turbo pumping systems are highly configurable, flexible solutions. These systems are offered with a variety of turbo pumps from 70 to 800 L/s, active gauge reading, and dry components for clean operation
TPS-flexy Turbo Pumping System
The Agilent TPS-flexy turbo pumping system is a flexible, customizable high-vacuum system. Choose from three dry backing pumps—IDP-7 scroll pump, IDP-3 scroll pump, or MD-1 diaphragm pump—and two turbo pump options, Twis Torr 74 FS or 305 FS. With 40+ options to choose from, you can find the right combination for your application.
The TPS-flexy package allows you to select components and configure the system yourself to meet a wide array of challenging applications. Quickly detach the turbo pump from the platform for direct mounting on your system for maximum pumping speed.
TPS-mobile Turbo Pumping System
The TPS-mobile is a customizable, high-capacity pumping system on the smallest footprint roll-around cart. Choose from more than 400 possible configurations consisting of small- and medium-sized TwisTorr turbomolecular pumps with pumping speeds from 70–700 L/s and backed by either an IDP or TriScroll dry scroll pump with 3–30 m3/hr pumping speed or DS rotary vane pumps with 6–30 m3/hr pumping speed.
The TPS-mobile is an optimum solution when pumping out larger systems and needing to maintain maximum mobility. Add the right gauge selection to monitor system pressure.